Suu Kyi's Plans for Myanmar Remain Vague Five Months After Vote
by and
Growth, Investment buoy transition five decades in the making

Government needs to manage expectations, keep generals onside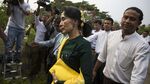 Aung San Suu Kyi seems in no rush to reveal her plans for governing Myanmar.
Five months after her National League for Democracy party swept historic elections, two months after her lawmakers took control of parliament and a week after her proxy was sworn in as president, the former political prisoner has yet to provide a clear strategy for how her party will run the country.
QuickTake Myanmar's Transition
The NLD needs to make clear what it plans to to achieve in its first 100 days and beyond and just who will be setting economic policy, said Romain Caillaud, senior director in global risk and investigations at FTI Consulting in Singapore, which provides risk analysis on investing in Myanmar.
"Will key economic decisions also be made by her, or will she delegate ministers and key parliamentarians the necessary authority to define and implement decisions?" he said. "Will there be advisers, local and foreign involved in shaping policies? Will wider public consultations be undertaken prior to reforms being adopted? These questions remain unanswered."
Suu Kyi's government will be tasked with everything from luring more foreign investment, to ending long-running ethnic insurgencies and halting human rights abuses as Myanmar moves beyond half a century of outright and indirect military rule. At same time the government will have to manage soaring voter expectations, allay investor concerns about its inexperience, and placate a still powerful military that is guaranteed 25 percent of the seats in parliament and has a controlling stake in many of Myanmar's most important economic enterprises.
Foreign Investment
She inherits one of Asia's fastest-growing economies, which is set to expand more than 8 percent this year fueled by foreign direct investment that reached a record of almost $9 billion in the fiscal year ended in March. That's more than a twenty-fold increase since military rulers began opening the economy less than a decade ago. Even with that progress, Myanmar remains among the poorest countries in Southeast Asia where less than a third of the population has access to the electricity grid.

Rather than laying out a vision for developing the country, Suu Kyi, 70, spent much of the transition trying to persuade the army to consent to changing a constitutional rule that bars her from becoming president. When that failed, she nominated her former classmate and longtime confidant Htin Kyaw, though she has said she would rule above him.
Party executive Nyan Win said last week that policy priorities would be announced "after the transfer of power," but on Monday another executive Win Htein said he couldn't comment on what those priorities would be.
China Talks
One area where Suu Kyi has been quick to act was engaging China, Myanmar's largest trading partner, which accounted for more than half of Myanmar's total trade in 2014, meeting Tuesday with Chinese Foreign Minister Wang Yi.
The $3.6 billion Myitsone dam project that aims to provides power to southwest China, became a symbol of the country's growing economic influence and sparked protests from local residents. The outgoing government froze the project, and Wang said Tuesday after the talks with Suu Kyi that the two sides would to work to resolve "all existing problems" through negotiations.
The NLD's first act after being sworn into power, was to craft a new role of "state councilor" for Suu Kyi that would give her formal power to advise the government.
New Role
Opposed by the army, the position allows Suu Kyi to "manage and instruct both executive and legislative bodies" without needing to amend the constitution, said Than Soe Naing, a political analyst in Yangon. He said it was a way of using the "existing clauses from the constitution for national reconciliation."
Earlier this week, less than five days after she was sworn in as minister for foreign affairs, the president's office, energy and education, came the abrupt announcement that Suu Kyi would give up the latter two. No reason was given.
All of this highlights Suu Kyi's top-down approach, with all decisions coming from her, said Gregory Poling, a Southeast Asia specialist at the Center for Strategic and International Studies in Washington.
---

The vast frontier market of 56 million people is finally open for business
---
Causing Confusion
"That concentration of power has resulted in a great deal of confusion during the transition, with NLD officials alternately unable to discuss the party's plans or contradicting each other when they do," Poling said.
Given the former military regime's history of blocking the NLD from taking power, the NLD's secrecy is understandable, said Yangon political analyst Sithu Aung Myint, who believes the party will be more transparent now that it's finally in control.
"The NLD took great caution in announcing and forming the government, as they were worried about the uncertainty," he said. "This transition is the first in 50 years."
Army chief Min Aung Hlaing has made it clear that he believes the military, which retains veto power over changes to the constitution as well as control of the defense, interior and border affairs ministries, still has has an important role to play.
Honeymoon Period
In a speech marking Armed Forces Day on March 27, he said the military will continue to play its constitutional part in "building a multiparty democratic nation" during the transition, but he added, the military also "has to contribute to stability and development tasks of the government."
Suu Kyi and her party may enjoy a longer honeymoon period than most new governments, but even "democracy icons" will eventually have to show results, Poling said.
"Ultimately, the ability to deliver economic growth, development, and public goods will be what really matters," he said. "If in six months or a year it becomes apparent that the NLD government is not experienced or adaptable enough to deliver, it will face critics both domestic and foreign."
Before it's here, it's on the Bloomberg Terminal.
LEARN MORE