SNB Kicks Off New Banknotes Devoid of Historical Portraits
by
New design depicts `typically Swiss' characteristics

Introduction of new banknote series to be completed by 2019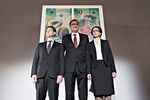 The Swiss National Bank unveiled its new 50-franc ($52) note on Wednesday, the first in a series that features nature rather than portraits of famous men and women.
The 50-franc bill, which will begin to be issued on April 12, was designed with the theme of wind and depicts a dandelion, mountains and a para-glider. Other notes in the series have butterflies, clocks, a tunnel and sets of hands.
"Each note in the new series now depicts a typically Swiss characteristic," SNB President Thomas Jordan said at a press conference in Bern. They showcase "Switzerland as a place known for its organizational prowess, for its vibrant cultural scene, for the wealth of experiences it offers, as well as for its humanitarian tradition and its track record as a research hub and place of dialog."
The launch of the bill coincides with the role of cash coming into heightened focus around the world, with well-known former policy makers such as ex-U.S. Treasury Secretary Lawrence Summers suggesting higher-denomination notes be withdrawn from circulation to clamp down on crime. Switzerland has bills with a face value of 10, 20, 50, 100, 200 and 1,000 francs and the new series will stick with those denominations.
"I can confirm that we have no plan of dispensing with the 1,000-franc note," Jordan said.
Popular Option
Bills are "still a widely used and popular option," he said. "People regularly use cash as a means of payment in shops and restaurants or when traveling by train, for instance. It is also widely used for automobile purchases and in agriculture."
The SNB's new notes, designed by artist Manuela Pfrunder, will be progressively introduced until 2019 and will replace the current series, which features notable personalities such as architect Le Corbusier and which came into circulation from 1995. The notes are slightly smaller than the existing bills.
By kicking off the new notes with the 50-franc bill, the country is dropping the only real-life woman ever to have graced a Swiss note: dadaist artist Sophie Taeuber-Arp.
Before it's here, it's on the Bloomberg Terminal.
LEARN MORE