Seven & I Said to Discuss Replacing Unit Chief in Snub to Loeb
by and
Third Point's Loeb warned against nepotism in CEO succession

Company board to meet Thursday ahead of results release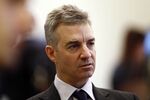 Seven & i Holdings Co. plans to propose replacing the Japan head of its main convenience store unit Ryuichi Isaka at a meeting Thursday, ahead of the company's results announcement, according to two people with knowledge of the matter.

The plan by board members of Japan's largest retailer runs counter to activist investor Dan Loeb's argument that Isaka, president of Seven-Eleven Japan Co., should be a leading candidate to become Seven & i's chief executive officer. The New York-based founder of Third Point LLC on March 27 wrote a letter raising concerns about CEO Toshifumi Suzuki's health and warning the company against letting nepotism determine his successor.
Third Point is advocating for Seven & i to restructure its Ito-Yokado Co. general-merchandise unit and divest retailers Sogo & Seibu, Barney's Japan, and Nissen Holdings Co. Suzuki's successor should focus on running the company as a convenience-store operator, Loeb wrote.
"The board is likely to want to make an independent decision based on ensuring the long-term success of the company," said Roy Larke, a professor of marketing and Japanese Business at Waikato University, earlier this week. "Loeb is probably right that Seven & i has been slow in forcing efficiency and marketing effectiveness in many of its companies and, ideally, it should address this with some urgency."

The Yomiuri newspaper reported earlier that Seven & i plans to replace Isaka with another executive without saying where it got the information. A company representative said that "nothing has been decided" when asked about the report.
Seven & i fell 1.1 percent to 4,590 yen at 1:20 p.m. in Tokyo trading. The benchmark Topix was little changed.
Before it's here, it's on the Bloomberg Terminal.
LEARN MORE