S&P Says Pressure on South Africa Ratings Mainly From Growth
by and
Rating company cut 2016 growth forecast by half to 0.8%

Politics could divert attention from growth, S&P says
Standard & Poor's cut its 2016 growth forecast for South Africa by half as it warned that pressure on the nation's credit rating comes mainly from slow economic expansion.
The rating company cut its growth forecast for this year to 0.8 percent, in line with that of the central bank, from 1.6 percent, and reduced its estimate for 2017 to 1.8 percent from 2.1 percent, according to an e-mailed statement on Wednesday. The revisions were prompted by the fall in commodity prices, the drought, depreciating rand and weak confidence, which was eroded further by the removal of Nhlanhla Nene as finance minister in December, S&P said.
Pressure on South Africa's BBB- credit rating comes primarily from slow growth, S&P Associate Director Gardner Rusike said at a conference in Johannesburg on Wednesday. State-owned companies and an increase in external imbalances could put further pressure on the rating, he said.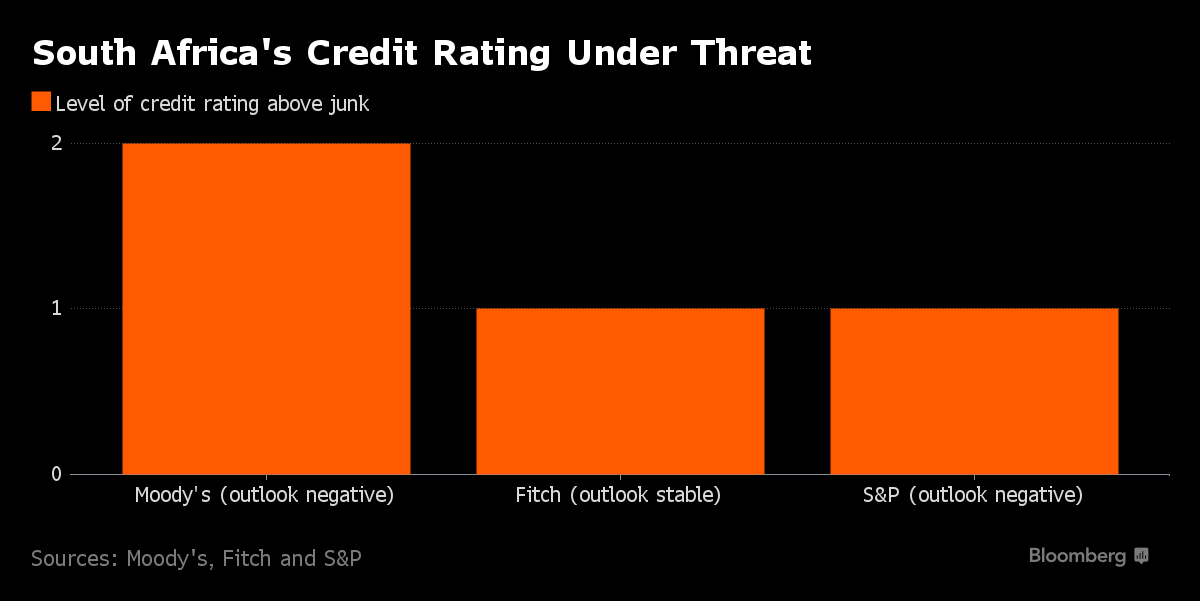 Africa's second-largest economy risks losing its investment-grade credit rating with the slowest pace of growth since the 2009 recession and government debt that probably rose to more than 50 percent of gross domestic product in the year through March 31, according to the National Treasury. The rand lost 25 of its value against the dollar last year, adding to consumer prices that are already fueled by the worst drought in more than a century. Inflation accelerated to an almost seven-year high of 7 percent in February.
"Steps to address growth issues are moving at a slower pace," Rusike said. "If they moved at a faster pace it would help us believe in the medium-term growth potential of the economy."
Negative Outlook
S&P has a negative outlook on its rating, which is one level above junk. Moody's Investors Service rates South Africa's debt one level higher, also with a negative outlook, and the company put the nation's assessment on review for a downgrade last month.
A downgrade of South Africa's credit rating "is possible," Reserve Bank Deputy Governor Daniel Mminele said on April 4. "The risks of a credit-rating downgrade have increased."
While S&P is scheduled to publish a review of South Africa's credit rating in June, it can do an out-of schedule assessment if it is necessary, Rusike said.
President Jacob Zuma shocked markets in December by replacing Nene as finance minister with a little-known lawmaker. The president reappointed Pravin Gordhan four days later in the position he held from 2009 until 2014 after pressure from ANC and business leaders.
The focus on politics and political tension could divert the government's attention from policy implementation to boost growth, Rusike said. Last week's Constitutional Court ruling that Zuma violated the constitution by failing to comply with an order from the graft ombudsman was "welcome" because it underlines the strength of the nation's institutions, he said.
The rand weakened 0.9 percent to 15.2411 per dollar as of 4:02 p.m. in Johannesburg on Wednesday
Before it's here, it's on the Bloomberg Terminal.
LEARN MORE