Rwanda Says Company Cited in 'Panama Papers' Was Used Legally
Paul Richardson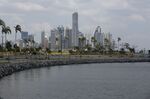 Rwanda's government said an offshore company mentioned in the so-called Panama Papers was used legally.
Debden Investments Ltd. was established in 1998 as a special-purpose vehicle to secure "strategic services" including transportation for government leaders, the Finance Ministry said in a statement Wednesday.
"Debden Investments Ltd. was used in all transparency and no private interests, illegal transactions or tax avoidance was involved in any form," it said.
The International Consortium of Investigative Journalists this week published documents leaked from a Panama-based law firm that show politicians, criminals and celebrities worldwide have used banks and shadow companies to hide their finances.
Before it's here, it's on the Bloomberg Terminal.
LEARN MORE