business
Russia and U.S. Near De Facto Alliance in Syria
By
Assad army could cut off ISIS's main Iraq-Syria supply line

Kremlin aims to forge anti-terror front with U.S. in Syria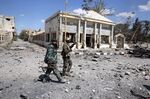 Fighters allied with the U.S. and Russia, long on opposing sides in the Syrian civil war, are both zeroing in on Islamic State's center of gravity.
After routing the self-declared caliphate in the ancient city of Palmyra March 27 with the help of Russian air power, the Syrian army's next major objective is cutting off the terror group's main supply route between Iraq and Syria. Kurdish-led forces backed by the U.S. are also getting closer to ISIS's capital of Raqqa, raising the possibility of a pincer movement that would bring the U.S. and Russia into a de facto alliance. That would have the effect of bolstering Syrian President Bashar al-Assad's hold on power, analysts say.
As the U.S. and Russia step up efforts to complete a peace deal to follow a partial cease-fire they brokered in February, their interests are converging in fighting the radical Islamist group even amid American reluctance to legitimize Assad. A successful campaign could prove critical for Europe as it grapples for a solution to rising terrorist attacks and the biggest refugee crisis in Europe since World War II.
After Kremlin talks involving U.S. Secretary of State John Kerry late last month, "it's clear that there is an understanding, even if it's not on paper, that we need to keep the cease-fire on track as well as coordinate our actions" against Islamic State, said Viktor Ozerov, head of the defense committee in the Federation Council, the upper house of Russia's parliament.
Islamic State seized swathes of land in Iraq and Syria, which it's used as a base to expand across the region and plot terrorist bombings from Beirut to Paris and Brussels. The group's territory has shrunk by more than a quarter since the start of last year as the U.S. and later Russia backed an offensive against it, according to the London-based research group IHS. Its sources of revenue have also been squeezed because of U.S.-led and Russian airstrikes on its oil facilities since late 2015.

The Pentagon said March 29 that it welcomed Russia's turn against Islamic State. After President Vladimir Putin started an air campaign in Syria in September, the U.S. complained that 90 percent of the strikes were hitting Assad opponents rather than Islamic State and the al-Qaeda-linked Nusra Front.
"They said initially that their primary goal was to go after ISIL in Syria, and they're doing so now," said Pentagon spokesman Peter Cook, using an alternate acronym for Islamic State. He said the U.S. is "accelerating" plans to move toward Raqqa and the Iraqi city of Mosul held by the terror group.
Challenging Cooperation
While Cook declined to comment on whether the U.S would welcome a Russian-Syrian push toward Raqqa, Russian Deputy Foreign Minister Oleg Syromolotov said military officials of the U.S. and Russia are discussing "concrete aspects" of possible coordination to liberate the city.
A U.S. military official said it isn't really feasible now to have coordination as the U.S.-led coalition and Russia operate separately. However, things may change given the recent evolution in the Russian approach, the official said.
The cease-fire in the five-year-old conflict between the Syrian government and Sunni rebels has held, enabling the government to deploy more forces against Islamic State, said Columb Strack, a senior Middle East analyst at IHS.
The Syrian army this week seized control of Qaryatain, a strategic town to the southwest of Palmyra. The push is backed by the Russian air force, which has deployed attack helicopters in Syria to assist fighters on the ground even after pulling out part of its warplanes in March. An attack to break the Islamic State siege of Deir Ezzor, a strategic crossroads about 200 kilometers (125 miles) east of Palmyra across the desert, will probably start within a few weeks, said Anton Lavrov, a independent Russian military analyst.
Ahead of the offensive, Syrian military transport planes escorted by Russian fighters on April 6 dropped 30 tons of aid by parachute to Deir Ezzor, where 200,000 people are trapped, the Defense Ministry in Moscow said on its website.
Increased Pressure
"This increases pressure on the West to come to a compromise with Russia over President Assad's future, and to enter into some form of at least tacit cooperation with Assad's forces, if only to de-conflict operations in the air and on the ground as the respective forces converge," IHS's Strack said by e-mail.
In a sign of its reluctance, the U.S. rebuffed a Russian invitation to join its efforts to clear Palmyra of land mines, which would have involved U.S. deployments to Syrian-held territory, U.S.-based risk consultancy Stratfor reported March 30.
Outright collaboration with the Syrian government would further strain relations between the U.S. and its regional allies including Saudi Arabia and Turkey, said Omar Lamrani, a senior military analyst at Stratfor. While the Obama administration has softened its demands for Assad's ouster, it continues to insist he can't be part of Syria's political future.
Still, the "U.S. will find it increasingly hard to avoid direct engagement with Russia as rebel and government forces they respectively support end up operating in the same battlefield against Islamic State," Lamrani said by phone.
— With assistance by Anthony Capaccio, and Ilya Arkhipov
Before it's here, it's on the Bloomberg Terminal.
LEARN MORE