Rajan Worries About `QE Infinity' as Global Economy Not Stable
by
India central bank chief says stronger growth only remedy

Global finance chiefs will meet next week in Washington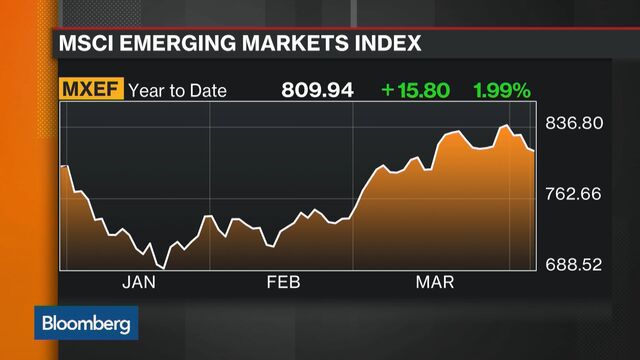 India's central bank governor renewed his criticism of unorthodox monetary policy in the developed world a week before global finance chiefs gather in Washington.
"I don't think this is a stable situation," Reserve Bank of India Governor Raghuram Rajan said in an interview with Bloomberg TV India on Wednesday. "Either we need stronger growth or we need to recognize we've reached the limits of monetary policy, and slowly, slowly -- I don't say abruptly -- slowly we get back to normalcy across the world."
The former International Monetary Fund chief economist expressed concern about central banks moving to support financial markets out of fear of turmoil and exchange-rate appreciation. Rajan was speaking a week after Federal Reserve Chair Janet Yellen dialed back expectations for interest-rate increases in the U.S. in coming months.
"If every time a central bank starts moving towards normalcy, it says, 'no, no, exchange rate appreciating, turmoil etc., we got to go back,' we're in it for a long time," Rajan said of the current situation. The interview was a day after the RBI cut its benchmark rate by a quarter point to 6.5 percent, following a drop in India's inflation rate and a commitment by its government to shrink the fiscal deficit in the coming year.
Without a strengthening in growth rates, there's a motivation to "keep monetary policy so accommodative till that actually happens," Rajan said. "Then this is not QE2, 3, 4, it's QE infinity, we keep doing it."
Last month Rajan called for a new set of international rules to assess monetary policy that includes using color codes to rate how beneficial measures are to global welfare.
Before it's here, it's on the Bloomberg Terminal.
LEARN MORE