Panama Data Leak Prompts Raid of Europe Soccer Headquarters
by
Swiss police seek details of a 2006 television contract

Sports marketing company linked to FIFA bribery scandal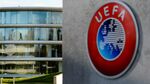 Police in Switzerland raided the headquarters of soccer's European governing body UEFA to gather evidence about a Champions League contract it signed with a sports marketing company that has since been implicated in the FIFA bribery scandal.
The warrant to search UEFA, one of six regional affiliates of FIFA, and another unidentified company on Wednesday follows the publication of a 2006 contract contained in a giant cache of files leaked from a Panama law firm. The contract shows that sports marketer Cross Trading S.A. bought the rights to broadcast three seasons of the Champions League from UEFA's marketing agency, TEAM, before charging the TV company, Ecuador's Teleamazonas, three times the amount it paid. 
Cross Trading was owned at the time by Hugo and Mariano Jinkis, Argentine nationals who are among 40 people charged by the U.S. Department of Justice in a sweeping investigation of soccer corruption. Prosecutors say soccer officials and business executives paid more than $200 million in bribes for media and marketing rights to tournaments, votes on which counties host the World Cup and elections at FIFA, the sport's governing body.
The Justice Department inquiry has focused mostly on soccer-related business in the Americas and not on UEFA in Europe, professional soccer's most lucrative market.
The Swiss prosecutor's office said the raids were motivated by the suspicion of criminal mismanagement and misappropriation "and are at present directed against persons unknown, meaning that for the time being, no specific individual is being targeted by these proceedings."
The case has attracted particular attention because the contract in question was signed by Gianni Infantino, FIFA's new president, when he was a legal director at UEFA. Infantino became soccer's top leader in February after allegations of corruption took down several senior officials, including FIFA's ex-president Joseph "Sepp" Blatter. Infantino said Tuesday that he was "dismayed" by any suggestion of wrongdoing against him.
Infantino, in a written statement, said he welcomed the investigation. "For the sake of transparency and clarity, it is essential that all elements of this dossier are disclosed, as UEFA has done," he said. "Based on these documents, it is clear that all contractual matters were conducted properly by UEFA."
The Jinkis's sports marketing business drew suspicion in May 2015 after the Justice Department said that Full Play, the parent company of Cross Trading, and two other Latin American sports marketing companies paid more than $100 million in bribes to get soccer rights to tournaments at below market value from corrupt soccer officials.
Infantino, 46, was a surprise pick to lead FIFA. He was chosen only after his former boss Michel Platini was caught up in the same scandal that implicated Blatter. Before his election both he and UEFA were asked by reporters if they had any links to the companies or individuals indicted by U.S. prosecutors. They denied any connection.
Then on Tuesday, news organizations that had access to the massive leak of documents belonging to Mossack Fonseca, a Panama-based law firm that specializes in creating offshore shell companies, published the 2006 television contract.
"At the time when UEFA initially responded to these requests from the media it had not had the opportunity to review the (thousands) of commercial agreements it has concluded over the years, and so the initial information given was inaccurate and incomplete," UEFA said in a written statement, apologizing for the error.
UEFA also said it had no knowledge of Cross Trading's subsequent payment for three times the sale price of the broadcast rights from the Teleamazonas television channel in Ecuador. The Mossack Fonseca documents show Teleamazonas chose the sports marketing company to handle its relationship with UEFA. No one at Teleamazonas was available for comment.
The TEAM marketing agency said Wednesday that the deal followed a "fair and open tender process." An internal document showed Teleamazonas's offer of $37,000 per season for three years -- a tiny fraction of UEFA's Champions League revenue -- was $7,000 higher than one offered by rival Gamavision.
"At that time nobody was aware that Cross Trading would, approximately a decade later, be the subject of criminal investigations," TEAM said.
Before it's here, it's on the Bloomberg Terminal.
LEARN MORE