Oil Riches Help Azerbaijan Outgun Armenia in Military Spending
by and
Azeris increased defense spending more than 10-fold in decade

Oil wealth counts for more than dependence on Russian trade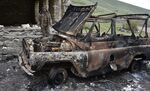 In the volatile, decades-long standoff over the breakaway Caucasus territory Nagorno-Karabakh, which flared up this week in fighting that killed dozens of people, one side has the upper hand in military spending.
Bouyed by a surge in oil revenue, Azerbaijan has raised its military spending by at least 10-fold over the last decade to as much as $4.8 billion last year, according to authorities in Baku. That dwarfs the outlays from Nagorno-Karabakh's ally Armenia, which saw a threefold increase to $447 million, according to data from the Stockholm International Peace Research Institute, released on Tuesday.
Azerbaijan and officials from the unrecognized Nagorno-Karabakh republic declared a cease-fire, brokered in Moscow, on Tuesday. Still, scores of truce violations reported by either side kept concern simmering that the worst violence in more than 20 years is at risk of spilling outside of the southern Caucasus, a region on Europe's eastern flank surrounded by Russia, its rival Turkey, and Iran. Armenia, which hosts a Russian military base and has a mutual defense pact with its former Soviet master, warned of the risk of "full-scale war" on Monday.
"The policy from Azerbaijan has been very clear, the strategy has been to push the economic, political, diplomatic and military balance between the two countries in such a way that Armenia would be forced accept some form of peace deal," said Svante Cornell, director at the Central Asia-Caucasus Institute and Silk Road Studies Program of the Johns Hopkins University. "The idea was to strengthen the Azerbaijani defense to force the Armenians to the negotiating table."

Azerbaijan's purchases include $4 billion worth of Russian armaments since 2010, including 100 T90 tanks and anti-aircraft systems. The Caspian Sea nation has also forged closer ties with Israel, buying advanced weapons including drones and missile systems, and has signed an agreement on military cooperation with Turkey. For its part, Armenia signed a $200-million loan with Russia in February to buy and modernize weapons and other military equipment.
While Azerbaijan also dwarfs Armenia in terms of population at about 9.5 million to 3 million, they are evenly matched in terms of frontline troops at about 70,000 each, according to globalfirepower.com. Azerbaijan outguns its rival in materiel, however, boasting 314 tanks 191 multiple rocket-launch systems and 127 aircraft, compared with Armenia's 166 tanks, 150 launchers and 63 aircraft, 63 aircraft, according to the website that tracks military data on more than 125 countries.
Russia, which helped negotiate both the cease-fire this week and the original truce in 1994 after a three-year war between the sides killed 30,000, has seen its once-dominant trade position with ex-Soviet republic Azerbaijan fade following the 2006 opening of BP Plc's Baku-Tbilisi-Ceyhan oil pipeline.

Once Azerbaijan's biggest export destination, Russia took $636 million in Azeri exports in 2014, less than a 10th of sales to Italy. This was still twice as much as sales to Russia by Armenia, for whom the former Soviet master remains the biggest partner, according to Bloomberg data.
Azerbaijan's national income per capita has also soared, jumping almost three times to $16,910 in the decade to 2014. Armenia's increase was 72% to $8,450, according to World Bank data.

Still, a plunge in oil prices adds another dimension to the standoff for Azeri President Ilham Aliyev. The largest oil producer in the former Soviet Union after Russia and Kazakhstan faces a recession after the value of its currency dived more than 50 percent last year, the central bank depleted more than two thirds of its reserves, and all three major credit rating companies cut the sovereign to junk.
Shrinking revenues may force Azerbaijan to cut this year's military spending by as much as 40 percent, IHS Jane's Defence Industry reported in January.
Before it's here, it's on the Bloomberg Terminal.
LEARN MORE