Merkel Coalition Readies for Greek Deal as EU Crises Multiply
by
German lawmakers see accord with IMF in bailout in the end

Europe's latest threats overshadow impasse in Greece talks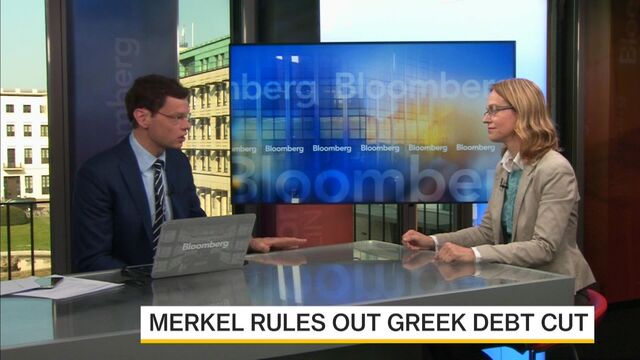 German lawmakers say they expect Greece and its creditors to reach an accord to unlock further bailout funds, avoid a debt cut and meet Chancellor Angela Merkel's demand that the International Monetary Fund take part in the aid program.
In a turnaround from last year, when mainstream German politicians lined up to advocate booting Greece out of the euro, lawmakers and officials in Berlin now say they're counting on a deal. While the slow pace of talks has raised speculation of another Greek budget crunch in July, Germany policy makers see the Greek dilemma as eminently solvable compared with strife over migration and the threat of the U.K. leaving the European Union. 
QuickTake Greece's Financial Odyssey
"The EU has so many issues it can't agree on these days, including the refugee crisis," said Ingrid Arndt-Brauer, a Social Democrat who chairs the German lower house's finance committee. "At least on Greece one can hope for an agreement. We've always managed to reach one in the past."
Underpinning that view is Merkel's open door to limited debt relief and her determination to avoid destabilizing Greece as it struggles at the frontline of Europe's refugee crisis. After Merkel and IMF Managing Director Christine Lagarde discussed Greece in Berlin on Tuesday, the chancellor said negotiations are "on a very sensible path" though more work was needed for an agreement.
"As in the past, there will ultimately be a deal with the IMF on debt relief, without calling it debt relief," Carsten Linnemann, a member of Merkel's Christian Democratic Union who voted against the latest Greek aid package in July, said in an interview.
Rising Yields
Greece's 10-year bond yield climbed 3 basis points on Wednesday to 8.94 percent , the highest in four weeks, after animosity between Prime Minister Alexis Tsipras and the IMF flared last weekend.
Any deal will have to mesh Greek austerity measures, the IMF's pressure for debt relief and Merkel's opposition to writing off any principal on Greek aid loans. Yet as German leaders seek to make the three-year aid program work, the days when Finance Minister Wolfgang Schaeuble dangled Greece out of the euro during last year's bailout talks are gone.
"We always said there's flexibility" on how Greece could meet its bailout targets, said Eckhardt Rehberg, the CDU's policy spokesman on the lower house's budget committee. "That still applies."
That could include measures to boost government revenue, such as curbing tax evasion, rather than painful cuts in social programs, Rehberg said. Schaeuble suggested last month that the overseers of Greece's third bailout by its euro-area partners find a way to take into account Greek domestic opposition to cuts in retirement benefits.
Avoiding 'Chaos'
Euro-area governments are reviewing whether to release the second installment of an 86-billion-euro ($98 billion) bailout for Greece, which faces a 2.3 billion-euro payment coming due on July 20. IMF aid would be separate from the European bailout.
Merkel swung behind another bailout for Greece last July and put political capital on the line to win the German parliament's required approval. Appetite for letting the euro area's most-indebted member tumble out of the currency union has faded since, with Merkel saying in February that Europe can't let the refugee crisis plunge Greece into "chaos" after helping keep the country in the euro.
Wayne Bowers, international chief investment officer at Northern Trust Asset Management in London, shares the German view.
"We will expect some kind of solution," he said in a Bloomberg Television interview. "My expectation is that perhaps we will be disappointed going through the summer. But there will be a solution that will be presented, put in play and negotiated over the coming weeks."
Before it's here, it's on the Bloomberg Terminal.
LEARN MORE