Leissner Letter That Led to Goldman Exit Written for Jho Low
Greg Farrell, Dakin Campbell and Elffie Chew
Bank is withholding ex-partner's payout following departure

Financier Low had ties to Malaysia's 1MDB investment fund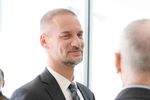 The unauthorized reference letter that led Goldman Sachs Group Inc. to suspend star banker Tim Leissner was written on behalf of a Malaysian financier tied to an investment fund at the center of an international inquiry, three people familiar with the matter said.
In a regulatory filing last month, Goldman Sachs disclosed that Leissner, a former Southeast Asia chairman who helped raise $6.5 billion for 1Malaysia Development Bhd., also known as 1MDB, was placed on leave after the firm discovered he wrote a reference letter that contained "inaccurate" information.
The letter was written on Goldman Sachs letterhead to another bank on behalf of Jho Low, according to the people. It implied Goldman Sachs had vetted Low and done business directly with him, according to another person familiar with the matter. In fact, the firm hadn't conducted that level of due diligence and its name shouldn't have been used to vouch for him, the person said.
Low has had ties to 1MDB, which he's described to newspapers as informal consulting work that didn't break any laws. The state-owned fund has been the subject of overlapping investigations in Malaysia, Singapore and Hong Kong amid allegations of financial irregularities. Low also has a profile in the U.S. for his role helping Malaysian Prime Minister Najib Razak's stepson launch the Hollywood production company that backed "The Wolf of Wall Street" and for deals in fine art and real estate.
Recently, Low has sold some artworks at losses, people familiar with the matter have said, though it isn't clear whether he purchased and sold them on behalf of someone else. Some of the art had been pledged as collateral for a loan of about $100 million from Sotheby's, the people said.
Authorities in countries including Switzerland and Luxembourg are trying to determine if some of the billions of dollars raised by 1MDB, including from three Goldman Sachs bond sales, was siphoned into the personal accounts of politically connected individuals. Najib, who oversees 1MDB's advisory board, and the fund have denied any wrongdoing. The inquiries haven't been focused on Najib, who was cleared by Malaysia's attorney general of any wrongdoing in January. Goldman Sachs hasn't been the target of investigations. Michael DuVally, a spokesman for the bank, declined to comment. Low didn't respond to an e-mail and a call to his office.
Leissner's Pay
The disclosure about the reference letter comes as Leissner and Goldman Sachs are at odds over whether the New York-based bank will turn over restricted stock and options he earned during his last year there, one of the people said.
U.S. Justice Department prosecutors and the FBI have taken an interest in 1MDB and subpoenaed Leissner to appear before a grand jury this month to discuss Goldman Sachs's role in funding 1MDB and related issues.
Neither Leissner nor the bank are considered targets of the federal probe, according to people with knowledge of the matter. The investigation is being run by agents from the New York FBI office, along with prosecutors from the Justice Department's kleptocracy initiative.
Goldman Leverage
If the issue of Leissner's compensation isn't resolved by the time he meets with FBI agents and prosecutors in Los Angeles, investigators might think that Goldman Sachs still has some leverage over him, said Samuel Buell, a former federal prosecutor and now a professor at Duke University School of Law.
"Any investigator would ask whether there were issues of bias that might affect a witness's testimony," Buell said. "It might affect the witness consciously or subconsciously. It's there, and it's something you'd want to explore and find out about."
Michael Bowe, a lawyer at Kasowitz Benson Torres & Friedman LLP in New York, echoed that view.
"The bank will come back with an explanation," Bowe said. "But if they don't have a really good explanation, then certainly they'd be at risk of looking like they're trying to interfere with him."
One possible explanation: Since the financial crisis, U.S. and European regulators have pushed banks to get tougher on freezing or canceling pay if employees violate any policies or rules.
Before it's here, it's on the Bloomberg Terminal.
LEARN MORE