Opposition, Protesters Press On as Iceland Gets New Premier
by
Opposition to file motion on Thursday, debate seen Friday

Government bond yields decline for first day this week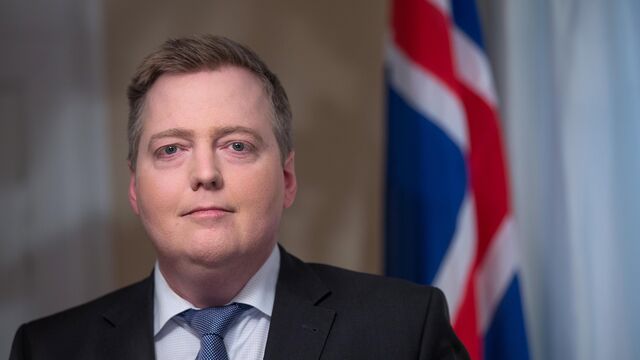 Iceland's opposition pressed on with a new confidence vote and protests were planned for a fourth day on Thursday as Iceland's embattled ruling coalition picked a new leader and promised to hold early elections as soon as September.
The center-right coalition late on Wednesday named Agriculture Minister Sigurdur Ingi Johannsson, 53, as the premier, taking over from Sigmundur David Gunnlaugsson who stepped down on Tuesday after leaks from a Panamanian law firm revealed that he and his wife had investments in offshore accounts.
The coalition is struggling to hold on to power as thousands of protesters have gathered in front of the legislature, banging on barriers and hurling yogurt and bananas. Signs on Wednesday read "not my government" and "Bjarni you're next," referring to Finance Minister Bjarni Benediktsson. The opposition said they would file a new no confidence motion on Thursday after the new premier formally takes over, which would be debated in parliament on Friday.

The ruling coalition, which has the majority in parliament to beat back such a vote, late yesterday also promised to hold an election as soon as this parliamentary session ends in September.
"Nothing we've heard so far has changed our minds about putting forth a motion of no confidence," Katrin Jakobsdottir, chair of the Left Green party, said late Wednesday before the coalition's press conference. "The public's demand is that elections are held and we are ready to face elections in as little as 45 days."
New protests are planned to coincide with the formal handover to the new premier at 3 p.m. local time at Bessastadir, the president's house near Reykjavik.
Iceland's benchmark 10-year note gained for the first time this week, pushing the yield down to 6.03 percent from 6.10 percent. The yield has surged from 5.73 percent at the end of last week.

Benediktsson, the leader of the Independence Party, was also revealed to have had an offshore account, in leaked files stemming from the Panama-based law firm Mossack Fonseca. The embattled center-right coalition comprises his Independence Party and the Progressive Party.
The two would lose an election were one held today. A Frettabladid poll published on Wednesday showed the government getting only 29.5 percent backing. Meanwhile the Pirate Party would get 43 percent and the two other parties in the opposition a combined 21.4 percent. Some 56 percent of those polled also called on Benediktsson to resign.
The current coalition will still have about two-thirds of the 63 seats in Iceland's parliament until an election is called.
Benediktsson has promised to stick to a plan to remove capital controls, which includes preparations for an auction in the first half of this year to free about 291 billion kronur ($2.4 billion) held by investors, including hedge funds, in so-called Glacier bonds that were sold in the run up to the nation's economic collapse in 2008. It's the last hurdle before the country can start exiting capital controls for households and corporations, which were imposed in 2008.
"We have before parliament a number of matters which are well on their way," Benediktsson said. "The largest single issue which still hasn't been presented in parliament is related to the removal of capital controls, which will be introduced within two, three weeks or there abouts."
Before it's here, it's on the Bloomberg Terminal.
LEARN MORE