For Israel Energy Developers, Bad News May Be Good News
by
Energy Minister Steinitz says government may offer safety nets

Government had rejected such measures in past, Steinitz says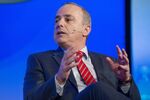 The latest bout of bad news for Israel's natural gas extraction plans may turn out to be a boon for energy explorers.
Plans to develop the country's largest gas field, Leviathan, ran aground again last month after the country's highest court ruled that the government overstepped its boundaries by promising a consortium of U.S. and Israeli companies no changes in regulations for 10 years. But explorers may end up with a better deal as the government weighs a range of possible incentives in an effort to salvage the project, Energy Minister Yuval Steinitz said.
"The result of this very unfortunate supreme court decision is that we are now considering giving things that we refused to give in the past," Steinitz said in an interview late Tuesday. "The companies had asked for these gestures before."
Among the options the government may dangle are debt guarantees and financial compensation for damages resulting from regulatory changes, Steinitz said in an interview. It is also considering legislating or softening the clause the court struck down, he said, declining to elaborate further. A decision on how to proceed could come "soon," he added.
Steinitz's comments on the ruling's possible benefits to developers reflects the government's frustration with its inability to win approval for a gas strategy delayed by political, legal and regulatory challenges. The absence of a regulatory framework has held up Leviathan's development and hindered production at the smaller Tamar reserve. It's also blocked export deals and antagonized investors, making it harder for the explorers, led by Texas-based Noble Energy Inc. and units of Israel's Delek Group Ltd., to secure financing at a time when energy prices have tumbled.
Noble and Delek declined to comment on Steinitz's remarks. They've said in the past that the gas deal can't go ahead without some kind of government commitment to cushion developers against the type of regulatory instability that has held up their work.
Entrenches Monopoly
Critics say the plan entrenches a monopoly and will increase natural gas prices for Israeli consumers. Steinitz said the court ruling against it sets a bad precedent for doing business in Israel.
"If our supreme court comes up with such an unreasonable decision, that government can't make decisions that will somehow bind future governments, this is very harmful and unprecedented in the world," he said. "What kind of message does that send to investors who want to make long-term decisions in Israel?"
Eytan Sheshinski, who advised Steinitz in formulating the government's gas policy, said he expected Israel to offer debt guarantees.
Because low oil prices have frozen investments worldwide, "the government has more urgency than the companies at the moment," said Sheshinski, a professor emeritus at the Hebrew University of Jerusalem. "The least costly route for the government are debt guarantees and other arrangements made directly with the companies" that wouldn't require legislative approval, he said.
Good Timing?
The Bank of Israel favors government aid to the project, whether through direct investment or guarantees.
With oil prices down, developers may have trouble financing Leviathan, and in the interest of reliable electricity supply "it would be worthwhile for the government to assist them in return for a share in the profits from the sale of the gas," the bank said in its annual report last week.
Given the state of the global energy market, the delay created by the court ruling might buy the companies welcome time, given the difficulties in financing deep-sea projects right now, said Brenda Shaffer, a senior fellow at the Washington-based Atlantic Council research institute's Global Energy Center, who specializes in oil and gas policies.
"We are talking about a world awash in oil and gas," Shaffer said. 
Before it's here, it's on the Bloomberg Terminal.
LEARN MORE