Fed's Global Concern Signals Barriers to Next Rate Increase
By and
FOMC focuses on three risks as it adopts a patient stance

Risk-management policy focus produces broad consensus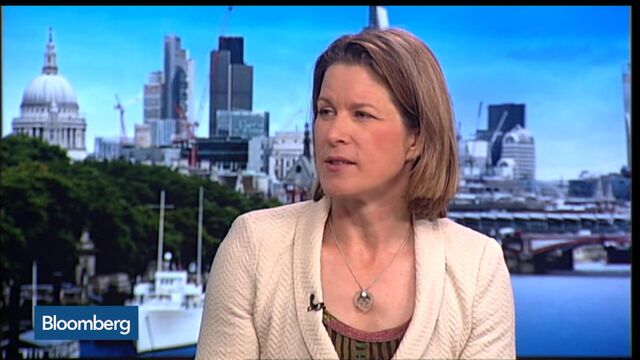 Federal Reserve officials last month held a vibrant debate that pitted the steady U.S. expansion against heightened global risks and reached a broad agreement on a go-slow strategy that reduced the odds of a rate increase in the first half of the year.
"Several expressed the view that a cautious approach to raising rates would be prudent or noted their concern that raising the target range as soon as April would signal a sense of urgency they did not think appropriate," according to minutes of the Federal Open Market Committee's March 15-16 meeting released Wednesday in Washington.
"In contrast, some other participants indicated that an increase" in the federal funds rate target range at the April 26-27 meeting "might well be warranted" if economic data came in as expected, the minutes showed. "A couple" wanted a rate hike at the March meeting, including Kansas City Fed President Esther George, who dissented against the decision to keep rates unchanged.
U.S. central bankers in March also lowered their estimate for rate hikes this year to two quarter-point moves from four in December, with nine of 17 officials holding that view. The minutes confirmed Fed Chair Janet Yellen's message from her post-meeting press conference and a subsequent New York speech just last week: To assure the expansion stays on track, policy will respond to growth threats as much as it does to actual data.
Risk Management
Investors marked down the probability of a rate increase by the FOMC's June meeting following the release of the minutes. The chances are seen now as below 20 percent, according to trading in futures linked to the federal funds rate.
"Risk management considerations" helped "produce a broad consensus on the Federal Open Market Committee even among people who are more optimistic about growth," said Laura Rosner, a senior U.S. economist at BNP Paribas in New York. "They're able to pull together and agree this policy decision was appropriate."
Fed officials met as financial markets were recovering from the depths of a selloff in early 2016 that rattled global leaders and boosted U.S. recession risks. The unemployment rate, at 5 percent in March, is near central bankers' definition of longer-run full employment, and some inflation indicators are starting to rise. The personal consumption expenditures price index, excluding food and energy, rose 1.7 percent for the year through February. The FOMC targets inflation of 2 percent, including all items.
The minutes showed committee members considered a number of distinct risks, with a softening outlook for global growth and the ensuing volatility in financial markets chief among them.
Global Headwinds
"Many participants expressed a view that the global economic and financial situation still posed appreciable downside risks to the domestic economic outlook," according to the minutes. Data relevant to the Fed's thinking "include not only domestic economic releases, but also information about developments abroad and changes in financial conditions."
Fed officials noted that slowing growth abroad could work as a drag on growth at home by cutting exports and by reducing investment spending. "The possible adverse effects on investment spending of concerns about global growth and the associated volatility in financial markets were also noted."
The consideration of global conditions in U.S. policy making gives Fed officials even more discretion, said Ward McCarthy, chief financial economist at Jefferies LLC in New York.
More Flexibility
Flexibility has "increased multi-fold by introducing overseas economic and financial developments," he said. "There is virtually no risk they will raise rates later this month."
A second risk officials considered is the proximity of the zero boundary on interest rates. After almost seven years of expansion, the U.S. policy rate is still only in a range of 0.25 percent to 0.5 percent. Officials at the meeting noted "headwinds" such as tight credit that are working against the expansion are forcing them to keep interest rates low, according to the minutes. The risk is if the economy slumps, the Fed is only one cut from being back at zero. If inflation starts to run, however, they could easily push the policy rate higher.
"This asymmetry made it prudent to wait for additional information regarding the underlying strength of economic activity and prospects for inflation before taking another step to reduce policy accommodation," according to the minutes.
The third risk cited in the March policy debate was the possibility that inflation expectations had settled into a new, lower trend. "Several participants indicated that the persistence of global disinflationary pressures or the possibility that inflation expectations were moving lower continued to pose downside risks to the inflation outlook," the minutes showed.
Eleven of the 17 members of the FOMC saw risks to their inflation forecasts as tilted to the downside in March, marking the highest number since the Fed began publishing the data in 2012.

"The fact that effectively the downside risks to inflation actually went up, even given that actual measures of inflation had gone up, is pretty noteworthy," said Lew Alexander, chief economist at Nomura Securities International Inc. in New York. "That's a striking message."
Research released by the San Francisco Fed this week suggested "pressures pushing down inflation since early 2014 have had a lasting negative effect on investors' long-term expectations, which is projected to only partially be undone over the next few years."
A market-based measure of investors' inflation expectations over five years starting in 2021 stands at about 1.6 percent, for example, compared with 1.9 percent a year ago. The figure also incorporates investors' views about the risks around expected inflation.
"There seemed to be broader concern than I was expecting about inflation," said Michael Hanson, senior global economist at Bank of America Corp. in New York. "Global risks are something that is on their mind, but it kind of felt to me like inflation was really the kicker to get the committee to move toward a more patient stance."