China Seeks `New Chapter' in First Visit With Myanmar's Suu Kyi
by
Meeting raises prospect of resuming stalled Chinese projects

NLD chief says no specific issues discussed in first encounter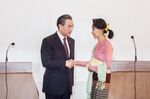 China and Myanmar pledged to open a "new chapter" in their sometimes strained relationship, raising the prospect that stalled Chinese investment projects in the Southeastern Asian country could be allowed to resume.
QuickTake Myanmar's Transition
Aung San Suu Kyi, head of Myanmar's ruling National League for Democracy and newly installed foreign minister, and her Chinese counterpart, Wang Yi, said the two had "reached consensus" to approach existing problems through negotiations. Wang's trip -- the first high-level diplomatic visit since Suu Kyi's party filled top government offices last week -- signaled China's interest in firming up ties tested by the previous military-backed government's halt of projects such as the $3.6 billion Myitsone dam.
"There is huge potential and space in the China-Myanmar economic cooperation and it's inevitable that we'd run into some problems in the cooperative process," Wang said in the Myanmar capital, Naypyidaw. "Through friendly consultation, all existing problems can be solved and an appropriate solution can be found."
Suu Kyi said the pair "did not discuss in detail" any specific issues between the two countries. "The reason the minister comes to Myanmar is to congratulate the new government and we talked about building better relations between our two countries, that's all," she said.
China remained one of Myanmar's few allies after the ruling junta refused to recognize an NLD election win in 1990 and still accounts for 40 percent of the country's total trade. Those ties have been strained by former President Thein Sein's 2011 decision to halt the dam and other projects amid concern over Chinese influence in the country. A flare-up in border fighting between Myanmar's military and an ethnic Chinese rebel group -- resulting in civilian deaths in Chinese territory -- has also tested ties.
Signalling Cooperation
Both Suu Kyi and the Chinese side have shown a willingness to cooperate in the run-up to her landslide election win in November, as the U.S. and European nations relax sanctions and look to make their own inroads. President Xi Jinping hosted the Nobel Peace Prize laureate in Beijing in June. Wang's visit came on the same day that Myanmar's lower house of parliament voted to give her the position of state councilor, making her the country's de facto premier.
On Monday, Suu Kyi said she didn't discuss her campaign pledge to ensure greater transparency in contracts related to the dam project. "I haven't reviewed all the contracts and projects from the previous government, but I plan to let people know about what we do with it," she said.
The Chinese government would instruct its companies operating in Myanmar to obey local rules, to respect local customs, and "pay attention to protect the ecosystem and the environment," Wang said, according to a statement on the Chinese Ministry of Foreign Affairs website.
Refinery Project
Guangdong Zhenrong Energy Co. received Myanmar government approval to build a $3 billion refinery in the Dawei special economic zone in the southeast of the country, The Paper, a Shanghai-based news website, reported Monday, citing two unnamed company executives. The plant would have an expected annual processing capacity of 5 million metric tons of crude.
"Myanmar is standing at a new starting point in history," Wang told Suu Kyi. "China hopes and believes that the new Myanmar government will unite all parties across its country and lead its people to create a new era of development and progress."
Before it's here, it's on the Bloomberg Terminal.
LEARN MORE