China Ramps Up Aluminum Output as 20% Rally Allows Restarts
Bloomberg News
As much as half of country's capacity is profitable, Wen says

Smelters that can get positive cash flow encouraged to restart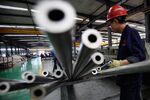 Aluminum smelters in China, which supply more than half the world's metal, are restarting idled plants after a price rally, according to the industry group that brokered an agreement in December to curb capacity.
As much as half of Chinese smelter capacity is profitable at current prices, Wen Xianjun, deputy chairman of the China Nonferrous Metals Industry Association, said in a phone interview, adding the restarts weren't a breach of the December accord because the pact allowed for flexibility in production.
Prices of the metal used to make everything from window frames to aircraft have climbed more than 20 percent from a low in November on the Shanghai Futures Exchange as Chinese policy makers signaled their willingness to bolster growth. The new production may reverse a decline in exports after they flooded world markets last year and hurt producers from the U.S. to India.

"While we're continuing to limit strictly the addition of new capacity, we're encouraging those who can achieve positive cash flow to restart output because demand is good," Wen said from Beijing on Wednesday.
The move fulfills a prediction from Macquarie Group Ltd. that rising prices of aluminum and steel would bring back output, threatening the rebound. Rates had shot beyond expectations, partly because companies that closed smelters and furnaces doubted the rally's sustainability, Ian Roper, a director in the commodities research division, said in an interview last week.
Southern Provinces
Higher Chinese output may add to global oversupply. The structural case for base metals remains very poor and aluminum is set to drop to $1,350 a metric ton in 12 months time, Goldman Sachs Group Inc. said in a note dated March 7. The metal was at $1,515 Thursday and has risen less than 6 percent since late November compared with the gain of more than 20 percent in Shanghai.
China Hongqiao Group Ltd., the world's biggest aluminum producer, already announced an increase in supply. The company will expand capacity by 16 percent this year to about 6 million metric tons, Chief Executive Officer Zhang Bo said last month. That came after the country's aluminum production fell in the first two months as companies cut output to stem losses.
Smelters mainly in the southern provinces such as Guizhou will restore 1.4 million tons of capacity this year, including around 800,000 tons in the first half, said Wan Ling, chief aluminum analyst with consultancy CRU Group. New supply will reach the market as early as June, pressuring global prices, Wan said. The country idled 3.8 million tons in 2015, according to Wan.
China's aluminum smelters pledged in December to halt new mills, keep idled capacity closed and to boost "production flexibility" after prices slumped to the lowest in six years, according to a statement from the China Nonferrous Metals Industry Association at the time.
— With assistance by Winnie Zhu
Before it's here, it's on the Bloomberg Terminal.
LEARN MORE