A $234 Million Lawsuit That May Help Mallya Repay Airline's Debt
by and
Lawsuit was filed against International Aero Engines in 2012

Mallya says victory in case would help repay Kingfisher loans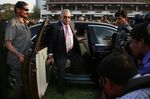 The suspense surrounding India's battle with bad loans and defaulters is getting deeper. 
A lawsuit over the quality of a jet engine may determine how much lenders can claw back from Vijay Mallya, the besieged founder of the failed Kingfisher Airlines Ltd. The catch: The nation's famously snail-paced, gridlocked judiciary where some cases have dragged on for almost two decades. Banks need to agree to the plan and will respond on Thursday.
The indebted ex-billionaire, who has sparred with local media for portraying him as the poster boy for soured loans, owes about $1.4 billion, according to the government. Last week he offered to settle his dues with a 40 billion-rupee ($600 million) payment by the end of September. He also promised 20 billion rupees more if United Breweries Holdings Ltd., the parent of Kingfisher, wins a lawsuit alleging defective engines from International Aero Engines AG contributed to his carrier's collapse. 
The Supreme Court on Thursday will hear bankers' views on whether they are willing to accept Mallya's offer. Finance Minister Arun Jaitley told lawmakers in parliament last month that Mallya owed 90.9 billion rupees, including all interest compounded, as of Nov. 30.
"If banks take Mallya's offer, the wait for 20 billion rupees from the lawsuit can go on forever," said Hatim Broachwala, a financial industry analyst at Nirmal Bang Institutional Equities in Mumbai. "With so many moving parts, one can never know how long that litigation can go on, nor can one tell what the outcome will be." 
Sub Judice
United Breweries Holdings, the holding company of Kingfisher, claimed about $234 million in damages in the lawsuit filed in 2012 against IAE, a joint venture that includes United Technologies Corp.'s Pratt & Whitney. The case, filed in a court in the southern city of Bengaluru, cited deficiencies in IAE's V2500-A5 engine. United Breweries said in Kingfisher's 2013 annual report that it could seek further damages.
Sara Banda, a spokeswoman for IAE, said the East Hartford, Connecticut-based maker has delivered 6,900 of the engines to almost 200 customers around the world, and the aircraft part has been in service for 27 years. "IAE does not comment on pending litigation," she added. 
"We can't comment because the matter is sub judice," said Sumanto Bhattacharya, a spokesman for Mallya and his UB Group.
Losses
After five straight years of losses and mounting debt, Kingfisher was grounded in October 2012 as workers protested unpaid wages and lenders unsuccessfully attempted to revive the carrier, which ran up high costs in a bid to redefine luxury travel in India.
In its annual report for the year ending March 2013, Kingfisher said the IAE engines were "inherently defective both in design and manufacture."
Punjab National Bank, India's second-largest state-run lender, named United Breweries Holdings a "wilful defaulter," United Breweries Holdings told the stock exchange on Feb. 16. United Breweries Holdings is considering challenging the declaration in court, according to the statement.
Usha Ananthasubramanian, chief executive officer of Punjab National Bank, didn't respond to calls to her mobile phone seeking comment.
'Not Bad'
A consortium of 17 lenders, led by government-controlled State Bank of India, approached the nation's top court last month to help recover 70 billion rupees from Mallya, who has maintained Kingfisher Airlines was an "unfortunate commercial failure" caused by macro-economic factors and government policies.
M. K. Rekhi, a Mumbai-based spokesman for SBI, said he couldn't comment
immediately on the case.
Kingfisher Airlines owed 69.63 billion rupees to banks as of Jan. 31, 2014. The loans were guaranteed by United Breweries Holdings and Mallya personally. The amount doesn't include interest accumulated after that day, and expenses and costs.
Mallya's lawyer C.S. Vaidyanathan submitted the settlement proposal to the Supreme Court on March 30. "We have left it to the banks to decide," he said in New Delhi on Friday.
Mallya's offer is "not a bad deal after all," Parag Jariwala, a Mumbai-based analyst at Religare Institutional Research, wrote in a research note dated March 30. "Mallya's capitulation in the face of tremendous pressure from banks, the government and the RBI could prompt other wilful defaulters and stressed companies to clear their dues as well –- a key positive for banks."
Tax Payers
Gross bad debt in India's banking system stood at 5.1 percent as of Sept. 30, more than three times the bad-debt ratio at Chinese lenders, data compiled by the Reserve Bank of India show. About 14 percent of their total lending has soured, and that includes restructured and written-off debt.
Mallya, 60, who presided over a beer and liquor empire a few years ago, was ranked the 45th-richest Indian with a net worth of $1 billion by Forbes in March 2012. He said in February this year that he'd decided to spend more time in England to be closer to his children. The Attorney General informed the Supreme Court last month that he had left the country after the lenders' consortium sought to prevent his departure.
"Mallya came up with the settlement plan when the government left him no option but to pay up," said New Delhi-based R. K. Gupta, managing director of Taurus Asset Management Co., which oversees $520 million. "If the 20 billion rupees promised from the lawsuit doesn't come through, then the tax payers will have to bear that burden."
Before it's here, it's on the Bloomberg Terminal.
LEARN MORE