`You Are a Target,' Goldsmith Tells Londoners in Bid for Votes
by
Tory candidate for mayor plans to maintain police strength

Goldsmith trails Labour's Khan in polling ahead of May 5 vote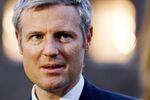 All Londoners are terrorism targets, Zac Goldsmith, the ruling Conservative Party's candidate to be the capital's next mayor, said in a speech laying out his commitments to tackle extremism and combat hate and knife crimes.
London's Metropolitan Police force will be maintained at more than 32,000 officers for the duration of the four-year mayoral term if he wins, Goldsmith said Wednesday, pledging an additional 500 officers to patrol the London Underground rail network. Referring to the recent terrorist attacks in Paris and Brussels, "just a train ride away," Goldsmith said that "this city a prime target" for Islamist terrorism.
"If you don't follow their twisted ideology; if you're gay, if you're a Christian, if you're a Jew, if you're a Muslim who rejects their warped interpretation of Islam, if you're just an ordinary Londoner using our transport system, you are a target," Goldsmith said in the speech at the offices of the Policy Exchange research group.
Goldsmith is trying to narrow a gap in polls that show his Labour Party opponent, Sadiq Khan, leading with just under a month to go until the May 5 vote. Khan, himself a London-born Muslim, has also pledged to tackle extremism and radicalization in London to lower the threat of terrorism. Goldsmith said that unlike Khan, his spending plans have been checked for feasibility and agreed on with Prime Minister David Cameron's government.
A ComRes poll for for LBC and ITV News on Tuesday showed Khan leading Goldsmith by 55 percent to 45 percent when second-preference votes are allocated.
Before it's here, it's on the Bloomberg Terminal.
LEARN MORE