`Brexit' Risks Leaving European Banks With $123 Billion to Cover
By and
Lenders may have to dump some securities if Britain leaves EU

Bonds may no longer meet liquidity requirements under Basel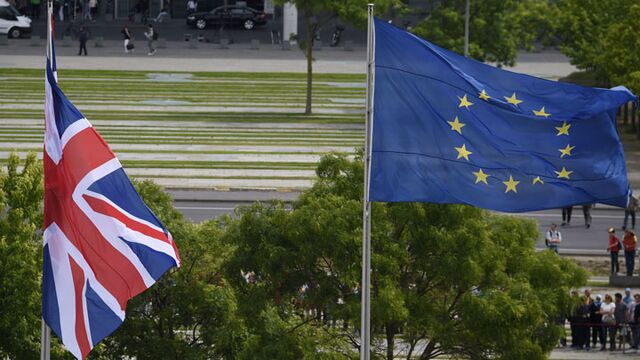 If Britain decides to leave the European Union, a corner of the credit market may depart with it and European banks could be left having to replace as much as 108 billion euros ($123 billion) of securities.
Lenders from the EU that bought bonds backed by U.K. mortgages, bank loans and credit-card debt may find themselves caught up in the fallout of a "Brexit" because the debt might no longer count toward their emergency cash reserves. While a settlement with the bloc would take years to reach, lawyers and analysts are beginning to flag concerns about holdings of the asset-backed securities, a market that's already been hammered since the financial crisis.
"Banks could find themselves having a liquidity issue if these assets no longer count," said Vincent Keaveny, a partner at law firm DLA Piper, who specializes in structured credit. "There are big risks out there, but there aren't any easy fixes."
Under the Basel Accords, a set of agreements by global regulators, banks must meet minimum standards meant to make them more resilient to shocks after the financial crisis highlighted their weaknesses. One standard, known as the Liquidity Coverage Ratio, requires banks maintain an adequate amount of high-quality assets that can be quickly converted to cash to meet liquidity needs for 30 days.
Alarm Bell
Certain securitized notes are counted, but their underlying assets must originate from a member state, according to the European Commission's Delegated Act for the standard. That means some bonds backed by collateral from a newly go-it-alone Britain may be excluded.
"'Brexit' could result in certain U.K. ABS no longer qualifying as eligible assets for current LCR purposes," Angela Clist and Nicole Rhodes, London-based lawyers specializing in securitization at Allen & Overy LLP, wrote in a note to clients in February.
A good proxy for the volume of outstanding asset-backed securities from the U.K. that meet liquidity requirements are the senior portions of bonds secured by prime mortgages, auto loans or credit card debt, according to Manuel Trojovsky, a Munich-based analyst at UniCredit Bank AG. The total currently outstanding is 108 billion euros, he said.
The June 23 referendum poses the latest challenge to Europe's 368 billion-euro market, which has been in decline since 2007 when credit markets seized up and the securities were blamed for stoking a housing bubble and concealing risk. In the past two years the market has contracted by 26 percent, according to data compiled by JPMorgan Chase & Co.

"For European bank investment books, there is a risk the bonds could suddenly fall out of the liquidity coverage ratio," said Gordon Kerr, London-based head of structured finance research at credit ratings firm DBRS. "If the U.K. leaves, you could have bank holders looking to sell."
While the repercussions of a British vote to leave the European Union has worried some issuers so much that they have cited it as a risk factor in their bond-sale documents, some lawyers caution against scaremongering.
"Even if there is a vote to leave, the U.K. will remain in the EU for some time to come because the process of withdrawal isn't going to happen overnight," said George Gooderham, a capital markets lawyer at Linklaters LLP. "If you're a European bank holding some U.K. securitization paper that you're counting toward your LCR, it's not the case that you would have to sell it the day after the vote."
The European Commission is not carrying out contingency planning and is not speculating on "what if" scenarios surrounding the U.K. referendum, a spokesman for the commission said in an e-mail.
European Appetite
European banks are among the biggest investors in euro-denominated U.K. mortgage bonds, according to Ratul Roy, a Citigroup Inc. analyst in London. The securities are attractive because they've started offering better value compared with debt backed by euro-area mortgages and they also allow the lenders to diversify their holdings.
One example is Nationwide Building Society, which sold the equivalent of about 1 billion pounds ($1.4 billion) of euro, pound and dollar bonds backed by prime residential mortgages in February. Banks were the biggest buyers and more than 95 percent of the euro notes were sold to buyers in continental Europe, according to a person familiar with the deal who asked not to be identified.
Banks also acquired 44 percent of euro-denominated U.K. mortgage bonds sold in January by Virgin Money Holdings (UK) Plc, the lender backed by billionaire Richard Branson, according to JPMorgan data. More than half of the securities were sold in the euro zone.
"The current 'Brexit' debate is being priced in the market as a 'U.K.' issue," said Aaron Baker, a London-based credit analyst at Banco Bilbao Vizcaya Argentaria SA. "In reality, it's a little more complicated than that given the state of integration of financial institutions and markets across the member states."