Why Would You Break In to the Bureau of Labor Statistics?
That's just what somebody did Monday—at the wrong place, at the wrong time. Goldfinger it wasn't.
by and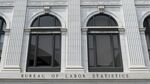 In a rare twist, the first Friday of the month wasn't the most exciting day for the Bureau of Labor Statistics this time around.
On Monday afternoon, a man was seen creeping along a second-floor ledge of a BLS building in Washington, D.C. When federal officers arrived, the suspect was inside, having gained entry by breaking a window, according to BLS spokeswoman Megan Kindelan, who described the event as a "security incident."
It isn't yet clear who the man is or what he was after, but it looks like both his timing and his geography were off. The most coveted statistics of the month, the non-farm payrolls report, had already been released on Friday, and this particular facility housed only public data. 
Among the government-related facilities one might wish to break in to, the Bureau of Labor Statistics makes an odd target. Unlike the New York Federal Reserve, made famous in the elaborately titled Die Hard With a Vengeance, there's no gold bullion to be had. If an intruder did manage to access high-profile economic data from the BLS ahead of time and undetected, he or she could conceivably profit by trading on embargoed information or selling it to evildoers. This one not only arrived on the wrong day, but was off by two bus stops.
The media "lockups" for the payrolls reports, at which press receive embargoed copies of economic data for use in preparing their reports, take place at the Frances Perkins Building, the Department of Labor's headquarters. The BLS facility breached Monday is dedicated to staff research on productivity and technology. 
The mystique of the Bureau of Labor Statistics and the importance of the market-moving metrics it compiles—which include not only the payrolls report but also the consumer price index and the job openings and labor turnover survey, among others—have attracted attention over the years. Jack Welch, former chairman and chief executive officer of General Electric Co., has criticized BLS releases as politically biased. 
Donald Trump, the current front-runner for the Republican presidential nomination, recently echoed those sentiments in remarks about the unemployment rate. 
"That was a number that was devised, statistically devised to make politicians—and, in particular, presidents—look good," he told the Washington Post. 
Neither tried to break in to the BLS. For them, scowling at it was enough.
Before it's here, it's on the Bloomberg Terminal.
LEARN MORE