Photographer: Carla Gottgens/Bloomberg
Australia Rates Probe Turns to Westpac With New Court Action
by
ASIC accuses bank of trying to set `artificial' BBSW pricing

Westpac rejects allegation, will `vigorously defend' claim
Australia's securities regulator said it has started civil legal proceedings against Westpac Banking Corp. for allegedly manipulating one of the nation's benchmark interest rates, the second such action in a more than a three-year investigation.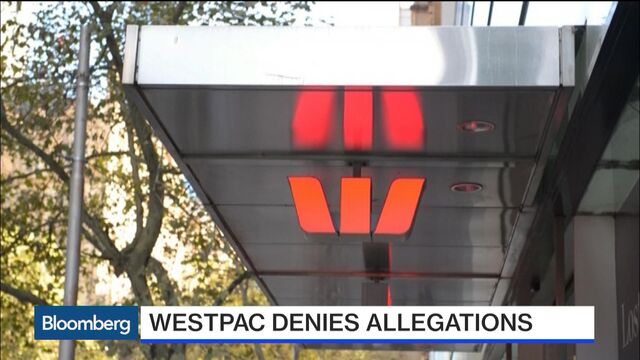 The Australian Securities & Investments Commission has commenced civil penalty proceedings against the Sydney-based lender, it said in a statement Tuesday. It alleged that Westpac traded in a manner intended to create an "artificial" price for bank bills on 16 occasions during the period of April 2010 to June 2012. Westpac, in a statement, rejected ASIC's allegation and said it will "vigorously defend" the court proceedings.
The regulator has been investigating the setting of the bank-bill swap rate -- the local equivalent of Libor that's also known as BBSW -- since mid-2012 and has previously criticized a lack of cooperation from the country's banks. The investigation led to a similar court action against Australia & New Zealand Banking Group Ltd. last month and voluntary contributions of a combined A$3.6 million ($2.7 million) toward financial literacy projects from Royal Bank of Scotland Group Plc, UBS Group AG and BNP Paribas SA.
Rejects Allegation
ASIC alleges that on the 16 occasions Westpac had a large number of products which were priced or valued off BBSW, and that it traded in the bank-bill market with the intention of moving the benchmark higher or lower. ASIC alleges that Westpac was seeking to maximize its profit or minimize its loss to the detriment of those holding opposite positions to Westpac's.
ASIC's court filing includes a transcribed extract of a telephone conversation that it says took place in April 2010. In it, a representative of Westpac is cited as saying that he "pushed the one month down, right, it was going to set at 30, right, then I got it down to 23."
The regulator, in a court action filed last month, has alleged that ANZ Bank tried to alter the price for bank bills on 44 separate days from March 2010 to May 2012. The Melbourne-based lender denied the allegation and said it would "vigorously defend" the claim.
Pecuniary Penalties
ASIC is seeking declarations that Westpac contravened sections of the Australian Securities and Investments Commission Act and the Corporations Act. It is also seeking pecuniary penalties against the bank and an order from the court requiring the lender to implement a compliance program, according to its statement.
ASIC has not suggested it has any concerns with Westpac's current practices, according to the bank. There are also no allegations of collusion with any other entity and Westpac fully cooperated with the regulator including providing 12 million documents for review, the lender said.
"We disagree with ASIC's interpretation of the communication between employees referred to in the court documents and their assessment of trading activity given the complexity of strategies involved," Westpac said in its statement.
Probes into the rigging of foreign-exchange markets and interest-rate benchmarks have led to lenders across the globe paying billions of dollars in fines and an overhaul of how such rates are set.
Australia changed its rate-setting regime in 2013 following the rigging scandal surrounding the London interbank offered rate, a major global benchmark. The Australian Financial Markets Association, which oversees the process for setting BBSW, scrapped a 14-bank panel that made submissions on the benchmark and moved to a system where the rate is compiled using prices sourced from approved interbank trading platforms.
Before it's here, it's on the Bloomberg Terminal.
LEARN MORE