Valeant Says No More Restatements, to File 10-K by April 29
by and
Shares up as much as 15 percent, biggest gain since March 21

Drugmaker says no `additional items requiring restatements'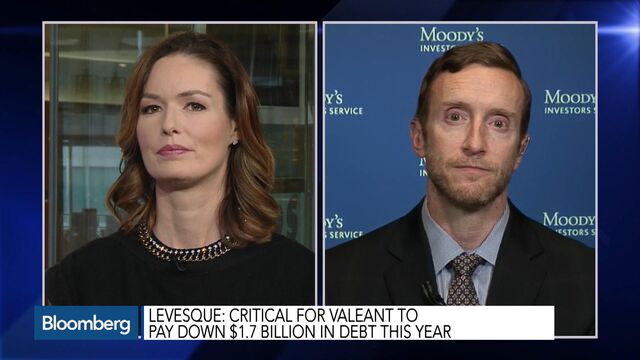 Valeant Pharmaceuticals International Inc. said a special ad hoc board committee has found no additional accounting issues at the company that would require more restatements, and that it plans to file its annual report on or before April 29.
The shares rose as much as 15 percent in their biggest intraday gain since March 21, and were up 8.6 percent to $28.37 at 9:46 a.m. in New York. Analysts have said that the ad hoc committee report was one of the biggest issues overhanging the stock, which has fallen 90 percent since their August peak, as of Monday's close.
The committee was looking into Valeant's now-terminated relationship with the mail-order pharmacy Philidor Rx Services LLC, after a short seller raised questions last year about whether it was using Philidor to inflate sales. Valeant eventually revealed that it had paid $100 million for an option to buy Philidor for nothing at any time during the next 10 years, consolidated Philidor's financial results into its own, and said it would restate some results from 2014 and 2015.
"After conducting more than 70 interviews and reviewing over 1 million documents, the ad hoc committee has not identified any additional items requiring restatements beyond those matters previously disclosed," Robert Ingram, chairman of Valeant's board of directors, said in a statement Tuesday. The committee will be shut down and any remaining work handed over to the board, Ingram said.
Out of the Woods?
The April 29 filing date has been closely watched by debtholders. On Monday, the company was facing resistance from some of its lenders as it seeks to waive a default and loosen restrictions on its debt, including deadlines for filing its annual report, according to people with knowledge of the matter.
"It sounds like they are making clear progress on the surface, but one caveat that I noticed was the the remaining work of the committee would be transferred to the board," David Amsellem, an analyst with Piper Jaffray & Co, said in an e-mail. "So I wouldn't yet conclude that they are out of the woods." He has an underweight rating on the shares.

Valeant has been through a turbulent year, after the company was questioned over its drug prices, criticized by presidential candidates, investigated by Congress, and had to cut ties with Philidor. The company said last month that Chief Executive Officer Mike Pearson will leave when a successor is found, after the drugmaker reported weak fourth-quarter results and announced the earnings restatements.
When Valeant's relationship with Philidor came under scrutiny in October, the drugmaker denied any wrongdoing with its accounting, though it set up the board committee on Oct. 26 to review the Philidor relationship. The committee was run byIngram, and included directors Mason Morfit, president of ValueAct Capital, Norma Provencio, head of the board's audit committee, and Colleen Goggins, a former Johnson & Johnson executive.
The use of mail-order and specialty pharmacies is common in the drug industry, where the pharmacies handle complex drugs, aid drugmakers with obtaining reimbursement from insurers, and ship products directly to patients, cutting out distributors. Yet there were particular aspects of Philidor that raised eyebrows.
In October, it was reported that Philidor engaged in various tactics to boost reimbursements for Valeant from health insurers, including submitting claims under different pharmacy identification numbers and altering the codes on some doctors' orders so it would appear that physicians or patients wanted Valeant's brand-name drugs instead of generics. Philidor said that it only filled prescriptions with medications that doctors and patients requested.
Valeant said on Oct. 30 it would end its relationship with Philidor, and the pharmacy announced it was shutting down.
Before it's here, it's on the Bloomberg Terminal.
LEARN MORE