U.S. Stocks Retreat as Rally Falters Amid Global Growth Concerns
by
Allergan drags on health-care with Pfizer merger in jeopardy

VIX volatility index jumps for second day after 7-month low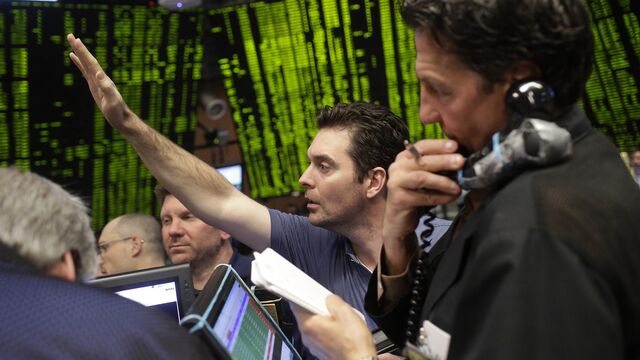 U.S. stocks fell, with the Standard & Poor's 500 Index posting the steepest loss in four weeks, amid simmering concerns that weakness in global growth will deepen.
Banks paced the retreat, sinking along with Treasury yields as bonds rallied on haven demand. Bank of America Corp. slid 2.4 percent. Health-care companies fell for the first time in three days, dragged lower by Allergan Plc's 15 percent tumble after the government took steps to limit so-called inversion deals, threatening its merger with Pfizer Inc.
The S&P 500 dropped 1 percent to 2,045.17 at 4 p.m. in New York, leaving it little changed for the year and ending the longest streak of calmness in 13 months. The index's move had been capped within 1 percent in either direction in the last 15 days, something not seen since March 2015. The Dow Jones Industrial Average fell 133.68 points, or 0.8 percent, to 17,603.32. The Nasdaq Composite Index lost 1 percent. About 7.3 billion shares traded hands on U.S. exchanges, 13 percent below the 2016 average.
"We're stalling out," said Michael Block, chief strategist at Rhino Trading Partners LLC in New York. "That's part of it, and it's being exacerbated by this continued rally in the Japanese yen and the release from the Treasury that's causing a lot of pain in Allergan. We have Fed minutes tomorrow and the expectation is for it to be super dovish, and if it's not then people might get confused."
The rally that lifted the S&P 500 as much as 13 percent from a 22-month low in February has started to lose momentum, with sentiment shifting as investors assess whether central banks can fend off weakness in the global economy. Worries that a slowdown in China would spread, intensified by tumbling crude prices had sent stocks to their worst-ever start to a year. Stabilizing oil and signals that policy makers would continue efforts to boost growth supported the late-quarter comeback.

Comments today from International Monetary Fund Managing Director Christine Lagarde provided no comfort to investors who are apprehensive about global growth. The downside risks have increased and "we don't see much by way of upside," she said in an interview with Bloomberg TV.
The Chicago Board Options Exchange Volatility Index rose 9.2 percent to 15.42, the biggest back-to-back gain in almost two months. The measure of market turbulence closed Friday at a seven-month low.
Tuesday's selloff in Allergan came after the S&P 500 health-care group's best two-day rally in more than six weeks. It also summoned paper losses of more than $200 million each for hedge funds run by John Paulson, Daniel Loeb and Andreas Halvorsen. For Halvorsen and Paulson, the latest loss adds to declines the two have experienced on another common holding, Valeant Pharmaceuticals International Inc., which is down more than 70 percent this year.
U.S. stocks climbed the most in a month last week, after jobs and manufacturing data strengthened confidence in the economy and Federal Reserve Chair Janet Yellen reaffirmed any interest-rate increases will be gradual. Fed Bank of Chicago President Charles Evans said in a Bloomberg TV interview today the U.K.'s "Brexit" vote and the U.S. presidential elections are fueling uncertainty, complicating decisions for policy makers as well as businesses and investors.
Services Data
With Fed officials scrutinizing data to guide their rate decisions, a report today showed activity in services industries picked up in March, indicating the economy was improving after a sluggish start to the year. A separate measure showed the U.S. trade deficit widened in February to a six-month high as an increase in imports exceeded a more modest pickup in shipments overseas.
The Fed will release minutes tomorrow from its latest meeting. Traders are pricing in zero possibility of a rate increase at the end of April, with December now the first month with at least even odds of higher borrowing costs.
The recent equity rebound coincided with a weakening dollar and has made the S&P 500 this year's third-best performer in the developed world, though recent gains in which the index erased losses for the year have come in light volume. In the past two weeks, the daily amount of shares trading hands on U.S. exchanges was more than 20 percent below the 2016 average.
"I think it's really more a consolidation. We came a long, long way in the first quarter, the second half," said Gabriela Santos, global market strategist at JPMorgan Asset Management on Bloomberg TV. "We went down a long way and we came back a long way, and I think it's a realization that things weren't as dire as they seemed in January and February but they're not perfect either."
Traders are also awaiting the start of the corporate earnings season, with Alcoa Inc. reporting its first-quarter results on April 11. Analysts estimate profit at S&P 500 firms fell 9.5 percent during the period, compared with forecasts for flat earnings growth at the beginning of the year.
"The market is taking a more realistic view again of what the fundamental prospects are like," said Veronika Pechlaner, who helps oversee $10 billion at Ashburton Investments, part of FirstRand Group, in Jersey, Channel Islands. "There is definitely pressure on corporate earnings in certain sectors still, and from a fundamental point of view it's worrying."
Broad Declines
All of the S&P 500's 10 main industries declined Tuesday, with utilities, financial and health-care shares falling at least 1.2 percent. Industrial and phone companies slipped 0.6 percent.
Allergan fell the most since 2004 to lead the drop in health-care, after the Treasury Department released rules that would limit the ability of U.S. companies to avoid paying taxes by issuing debt to their foreign parents, putting a planned $160 billion merger with Pfizer in jeopardy. Baxalta Inc. lost 7.4 percent amid the fallout, though Shire Plc said its proposed deal with Baxalta is not an inversion. Pfizer rallied 2.1 percent to the highest since Jan. 7, extending a three-day gain to 5.8 percent.
Elsewhere in the group, health insurers Aetna Inc., Humana Inc. and Anthem Inc. decreased at least 2.3 percent. The retreat follows a release of the government's Medicare Advantage payment rates to insurers, which were below the rates proposed in February. Valeant Pharmaceuticals rose 10 percent after a board committee found no additional accounting issues that would require more restatements.
Banks in the benchmark retreated the most since March 8 amid speculation low interest rates will continue to weigh on profits. The 10-Year Treasury yield fell to its lowest in more than a month. Wells Fargo & Co. and Regions Financial Corp. lost more than 2 percent. Within the broader financial group, insurers Chubb Ltd. and Willis Tower Watson Plc fell at least 2.1 percent.
Fallout from the crackdown on inversion deals was also being felt among merger-advisory firms. Boutique investment banks Evercore Partners Inc., Moelis & Co., Lazard Ltd. and Greenhill & Co. each fell more than 4.2 percent.
Utilities Retreat
Power producers cooled for a second day after the group posted the strongest quarterly advance in nearly 13 years. Dominion Resources Inc. and NRG Energy Inc. sank more than 2 percent after their best monthly gains in at least five years.
Among other stocks moving on corporate news, Walt Disney Co. lost 1.7 percent, the biggest slide in more than three weeks. Chief Operating Officer Tom Staggs, who was groomed to succeed CEO Robert Iger, is stepping down in a surprise move that forces Disney to look outside the company for its next chief executive.
Lumber Liquidators Holdings Inc. jumped 11 percent after winning a tentative ruling dismissing claims that it failed to adequately warn consumers about cancer-causing formaldehyde found in some of its laminate flooring.
Before it's here, it's on the Bloomberg Terminal.
LEARN MORE