Trump's Latest Border Bombshell Targets Some of Mexico's Poorest
by and
Candidate trying to force Mexico to pay for border wall

Blocking billions in remittances would do real harm to economy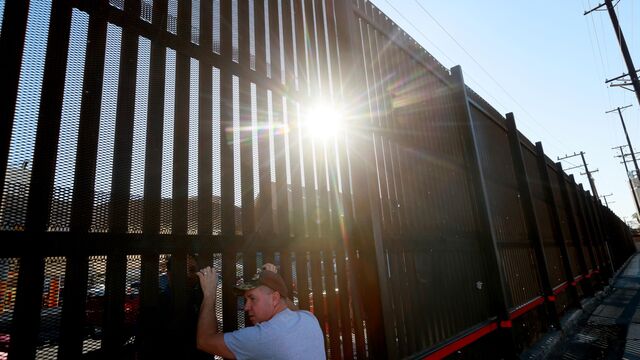 It might be illegal, it might be impossible, but if Donald Trump gets his way, his plan to prevent Mexicans in the U.S. from sending money back to their country would cause significant economic damage south of the border, especially to the very poorest.
The $25 billion in remittances sent to Mexico every year, most of which comes from the U.S., equals 2 percent of the nation's economy. They provide a lifeline for impoverished households that depend on relatives working in kitchens and construction sites from California to Maine. The inflows prop up the peso, boost returns for investors in local bonds and fuel spending at companies from retailers such as Wal-Mart de Mexico SAB, cement maker Cemex SAB and bottler Coca-Cola Femsa SAB.

"It's one thing that has been underpinning the strong household consumption and retail spending in Mexico," said Edward Glossop, an economist at Capital Economics in London. "If it did go through, it would be a significant shock to the economy."
Trump said in a memo that as president, he would block the payments workers send back to Mexico if the government there refuses to pay for a border wall he wants to build to subdue illegal immigration. Trump has said the wall would cost $8 billion to $10 billion, and officials in Mexico have repeatedly said they have no intention of paying for it.
Ordinary Mexicans were horrified by the latest Trump idea. Antonio Calleja said his 94-year-old grandmother depends on remittances sent by her son from his work at an apartment maintenance company in Texas. "It helps her to eat every day," he said from Mexico City.
In Brooklyn, New York, Jiliberto Errera, a 35-year-old construction worker, was waiting in line at Western Union to send payments to his mother, who lives in a village in Oaxaca in southwestern Mexico.
"My mom is 76 years old," he said. "She's very sick. I send maybe $6,000 a year to help her. Without that? I don't know how she survives."
Congressional Approval?
Trump cited a section of the USA Patriot Act antiterrorism law that he argues can be changed to enforce his proposal. It's unclear if Trump would be able to carry out the plan without approval from Congress. His plan could also disrupt the U.S. economy which has grown reliant on millions of Mexicans to do manual labor in exchange for making enough to send some of it back home. If that arrangement ended, many would certainly leave.
If Trump halted remittances "this would have serious economic consequences that will affect the U.S. first," former Mexico President Vicente Fox said in an interview on El Financiero Bloomberg TV. "Imagine if the response is, 'okay, the hundreds of thousands of Americans who work outside the country can no longer send remittances from our nations to the U.S.'"
President Enrique Pena Nieto's press office, as well as press officials for the Foreign Ministry, Economy Ministry and Finance Ministry, declined to comment. Mexico's peso weakened 1.2 percent Tuesday to 17.6927 per dollar at 4:45 p.m. in New York, in line with the decline in emerging-market currencies globally.
"It's more nonsense," said Kevin Daly, a money manager at Aberdeen Asset Management in London who helps oversee about $11 billion of emerging-market debt. "How can you legally block that? People are sending their money out to a country that still has no economic sanctions, has a trade relationship with the U.S. I think it's just more election blather."
Nonsense or not, Mexican officials have been taking action to counteract Trump's anti-immigrant messages this year, mounting an unprecedented effort to turn the country's permanent residents in the U.S. into citizens, a status that would enable them to vote -- presumably against Trump. Officially, Mexico says it respects U.S. sovereignty and has no strategy to influence the result of the presidential race. Yet diplomats are mobilizing to assist immigrants in gaining U.S. citizenship, hosting free workshops on naturalization.
12 Million in U.S.
About 12 million Mexicans live in the U.S. and almost half lack legal status, according to a November study by the Pew Research Center. Still, more Mexicans left the U.S. than arrived from 2009 to 2014, according to the nonpartisan research group. Trump started his campaign with invective directed at Mexico and a promise to build a border wall.
Mexico received $24.8 billion in remittances last year, the highest level since 2008, according to data compiled by Bloomberg. In 2012, 98 percent of remittances to the Latin American nation's $1.29 trillion economy came from the U.S., according to the Pew Research Center. While statistics are hard to come by, BBVA Bancomer SA estimates that most of the money comes from undocumented workers.
Trump said in the memo, first given to the Washington Post, that the threat to confiscate remittances would be withdrawn if Mexico made a $5 billion to $10 billion payment for the border wall. "It's an easy decision for Mexico," Trump wrote.
Remittances are on the rise as a stronger U.S. economy creates more jobs. Many Mexicans work in the U.S. housing industry, which has recovered from the depths of the slump seeing during the global financial crisis.
The money Mexican workers send home helps support the peso and stabilizes the current-account deficit, according to Alejandro Urbina, a money manager at Chicago-based Silva Capital Management LLC, which oversees $180 million in assets. He said that even if Trump were to become president, it's unclear how he'd be able to seize remittances.
"The chances of this coming to fruition are slim," Urbina said. "It is not something I'm concerned about and I am not going to make investment decisions based on it, at least for the time being."
Before it's here, it's on the Bloomberg Terminal.
LEARN MORE