Tesla Surge Halted as First-Quarter Deliveries Missed Forecast
by and
Shares fell early Tuesday, eroding gains since Model 3 reveal

Carmaker reaffirms full-year target on better manufacturing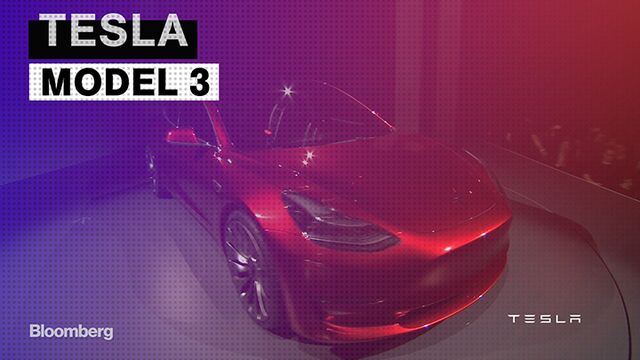 Tesla Motors Inc. fell in early trading after missing its first-quarter deliveries forecast as part shortages slowed production.
The shares fell 3.7 percent to $238.10 at 8:38 a.m. New York time, erasing almost half of their gain since Thursday, when the electric-car maker unveiled its $35,000 Model 3 sedan to overwhelming interest. Tesla gained 7.5 percent during the ensuing two trading days before releasing the preliminary deliveries total after Monday's close. The shares had closed as low as $143.67 in February.
Tesla said it sold 14,820 Model S cars and Model X SUVs in the first quarter, up 48 percent from last year but less than the 16,000 it had projected in February. The company blamed parts shortages for the Model X sport utility vehicle and "hubris in adding far too much technology to the Model X in version 1," according to Monday's statement. Saying it has resolved the supply problems, Tesla reaffirmed plans to deliver 80,000 to 90,000 vehicles this year.

"While in the grand scheme of the 'idea' of Tesla, the 'miss' doesn't matter much, it may stop the stock's recent positive momentum in the wake of Model 3 excitement," Joseph Spak, an analyst at RBC Capital Markets with a neutral rating on Tesla, said in a research note. "The Model 3 should be a less complex vehicle, but this news does underscore that building vehicles is difficult."
Combined deliveries of Tesla's first three electric vehicles -- the Model S luxury car, the Model X and an original Roadster that's now discontinued -- are now roughly 122,000, less than half of the more than 276,000 orders received just since Thursday for the company's newly introduced Model 3.
'Execution Matters'
The actual number of first-quarter deliveries may change a little by the time Tesla reports quarterly earnings. The company counts vehicles as delivered if it's transferred to the buyer and all paperwork is correct. Tesla releases global sales figures quarterly, instead of the monthly country-by-country results typically announced by other automakers. The maker of electric cars and energy storage devices delivered 50,658 Model S sedans and Model X sport utility vehicles in 2015, toward the low end of its revised target to ship at least 50,000.
You have a first-quarter "miss in the middle of reservations for the Model 3 going through the roof," said Andrea James, an analyst at Dougherty & Co. who has a buy rating on the stock. "Execution matters on an execution story, but Tesla scores points for their honesty about what happened in the quarter."
Before it's here, it's on the Bloomberg Terminal.
LEARN MORE