Redstone Said to Make Daughter Care Agent, Replacing Viacom CEO
by and
Decision coincides with settlement talks in competency case

Action relieves Viacom CEO Dauman of medical oversight role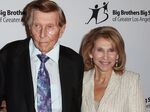 Billionaire Sumner Redstone has designated his daughter Shari as his new health-care agent, replacing longtime confidant and Viacom Inc. Chairman Philippe Dauman, people with knowledge of the matter said.
Redstone's attorneys, separately, are conducting settlement talks with lawyers for Manuela Herzer, a former girlfriend and companion who also once filled that role, said the people, who asked not to be identified discussing private matters.
Dauman had drawn criticism from some investors who said it was a conflict of interest for him to potentially make life or death decisions about his company's largest shareholder. Redstone, 92 and in shaky health, controls an 80 percent voting interest in both Viacom and CBS Corp. At the annual meeting last month, Dauman told investors he hadn't sought the position.
"When my long-term friend and colleague made that decision, it's a personal decision and as you can imagine it's hard to say no," he said.
Redstone, facing questions about whether he was still mentally competent to run CBS and Viacom, stepped back as chairman of both companies in February. At CBS, longtime Chief Executive Officer Leslie Moonves took the chairman's role with the blessing of Shari Redstone. Dauman became chairman of Viacom, even as Shari Redstone said publicly that Dauman shouldn't assume that title so long as he also plays a role in the family's affairs.
The elder Redstone passed the baton at Viacom and CBS at a challenging time for conventional media companies. After years of growth in advertising and pay-TV subscriber fees, both businesses are showing signs of decline.
Dauman said he's looking to sell a slice of Paramount Pictures, a crown jewel of the movie industry that produced "The Godfather" and "Raiders of the Lost Ark," and that Redstone wanted to own "forever."
New Health-care Agent
As part of the change, a Redstone family friend was also named health-care agent as a backup to Shari Redstone, according to one of the people.
The agent would direct Redstone's care should he be deemed unable to make decisions for himself, including whether to provide food and water. Herzer was removed from that role in October, shortly after she was asked to leave Redstone's house. She sued to be reinstated, saying Redstone was incompetent and that she was concerned about the care he was receiving.
Investors have been watching the case closely to see how it might affect Viacom and CBS, two of the biggest U.S. media companies. If the judge rules that Redstone was incompetent, that could prompt the board of National Amusements Inc., the family holding company that owns his stakes in CBS and Viacom, to have his personal physicians re-examine his mental state.
A settlement could prevent more family secrets from being spilled. Both Shari Redstone and Dauman, Viacom's chief executive officer, had been asked to provide testimony. Depositions for both were suspended, according to people with knowledge of the matter. The case was set to go to trial May 6.
Before it's here, it's on the Bloomberg Terminal.
LEARN MORE