Sumner Redstone Lawyers Said to Try to Settle Capacity Suit
by and
Deposition with Viacom CEO Dauman also suspended, people said

Dauman's role as Redstone's health care agent was questioned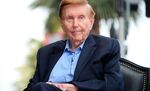 The legal team for Sumner Redstone is in settlement talks over an ex-girlfriend's claims that the controlling shareholder of Viacom Inc. and CBS Corp. is mentally incompetent, according to people familiar with the matter.
A deposition with Viacom Chief Executive Officer Philippe Dauman, who has been in charge of Redstone's health-care decision-making, was suspended, said the people, who asked not to be named because the deliberations are private. Another person said Dauman has been replaced by Redstone's daughter, Shari, as health-care agent for the 92-year-old billionaire.
The case was set to go to trial May 6. A settlement could prevent more secrets from being spilled in a case that already has exposed infighting among those closest to Redstone over who has his best interests at stake.
Investors have been watching the case closely to see how it might affect Viacom and CBS, two of the biggest U.S. media companies. If the judge rules that Redstone was incompetent last year when he dropped ex-girlfriend Manuela Herzer as his health-care agent, that could prompt the board of National Amusements Inc., the family holding company that owns his stakes in CBS and Viacom, to have his personal physicians re-examine his mental state.
At least one shareholder sued the boards of Viacom and CBS, accusing them of wasting millions of dollars paying Redstone when he was unfit to lead. Redstone stepped down as chairman of both companies in February, days after he was examined by a psychiatrist designated by Herzer as part of her court case. The shareholder case was dropped in March.
$50 Million
Redstone's lawyers claim Herzer's ulterior motive is to contest her removal from his will. They say Herzer stood to inherit $50 million plus Redstone's $20-million home before she was taken out of his estate plan.
Control of Redstone's 80 percent voting stakes in Viacom and CBS will pass to a family trust if he becomes incapacitated or dies. Shari Redstone and Dauman are two of the seven members of that trust. Redstone's Viacom and CBS holdings are shielded from Herzer's lawsuit -- the family trust that will take control was established too long ago to be in doubt even if he's declared incapacitated.
Judge David Cowan, who is hearing the case in Los Angeles without a jury, had refused to dismiss the allegations against Redstone.
The Wall Street Journal reported earlier on the settlement talks.
The judge hasn't appointed a conservator to look out for Redstone's interest and, if the parties reach a settlement that includes a provision recognizing that he's mentally fit, Cowan may not raise an issue, said Jessica Babrick, a probate lawyer with Weinstock Manion in Los Angeles.
Reports by Psychiatrists
If the judge, based on the reports by psychiatrists who have examined Redstone, has doubts about Redstone's capacity, it could create a complication, Babrick said in a phone interview.
"You don't know how concerned Cowan is," Babrick said. "We don't have access to all the documents that he has seen."
The judge probably will be hands-off regarding the financial terms of any settlement but may want to be assured that Redstone's health-care needs are taken care of, said Burt Levitch an estate planning lawyer with Rosenfeld Meyer & Susman in Beverly Hills, California.
Herzer, who cited a concern for Redstone's well being when she petitioned the court last year, presumably is also concerned about her own welfare, Levitch said in a phone interview.
"Recall that we believe she was recently written out of his estate plan, and a settlement could provide some dollars for her that she would not otherwise realize," Levitch said.
The case is In re Advance Health Care Directive of Sumner M. Redstone, BP168725, Los Angeles County Superior Court.
Before it's here, it's on the Bloomberg Terminal.
LEARN MORE