Rajan Rate-Cut Reward Boosts Odds He'll Stay on as RBI Governor
by
Rajan's term ends in September, can be extended by Modi

Modi, Rajan have recently taken series of complementary steps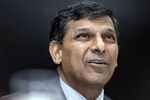 Raghuram Rajan's quarter-point interest-rate cut in India on Tuesday added to signs of increased cooperation with the Modi administration that bolster his chances of staying at the helm of the central bank past September.
Rajan unveiled the decision days after Finance Minister Arun Jaitley made the case for lower borrowing costs. Recent politically difficult decisions -- such as a tightfisted budget and steep rate cuts on the government's small savings programs -- have also indicated the governor appointed by the last administration is on the same page as Prime Minister Narendra Modi.
The policy coordination augers well for India's economy as Modi looks to sustain one of the world's fastest growth rates while dealing with a pile of bad loans and slowing global demand. India's central bank chiefs are appointed by the government for an initial term of three years, which can be extended to ensure policy continuity.
"Rajan has worked well with the government and delivered what the central bank is supposed to do," said Madan Sabnavis, chief economist at Credit Analysis & Research Ltd. in Mumbai. "Performance-wise nobody can find fault with him. There is no reason for not extending his term unless the government has someone else in mind."
Working Together
Modi's government so far has declined to comment on extending the term of Rajan, a former chief economist at the International Monetary Fund. Rajan has similarly deflected questions on his future.
Apart from delivering his fifth interest-rate reduction on Tuesday, Rajan unveiled a series of measures to improve banking oversight, strengthen cyber security, deepen financial markets and push toward a cash-less society. Some of those deadlines extend beyond his scheduled term.
Policy makers at the central bank and government are working in conjunction to extend bank services to India's remote villages, clean up bad debts, create cheaper sources of funding and rid the system of perverse incentives that encourage companies to default on payments.
"They have to work in tandem and move in the same direction," said Devendra Kumar Pant, chief economist at Fitch unit India Ratings and Research. "The government stuck to its fiscal consolidation path and the RBI has supported that by cutting policy rates." 
Early Tensions
The relationship hasn't always appeared this smooth.
Rajan took office in September 2013 and Modi came to power about nine months later, both with a mandate to fix a floundering economy. The rupee was at a record low, the inflation rate was one of Asia's fastest, and credit growth hovered near unprecedented depths.
Speculation that Rajan would be replaced by a figure loyal to the new regime intensified in 2014 when he ignored repeated calls from government officials to lower interest rates. Instead, he kept rates elevated and pushed the case for India to implement an official inflation target.
Last year saw a turning point when Rajan started the current easing cycle with an unscheduled rate cut in January. Modi responded by formalizing the inflation target and a a pledge to continue shrinking Asia's widest budget deficit, which earned him another rate cut.
Rajan Praise
The give-and-take continued over the past two months. Modi stuck with fiscal discipline in his latest budget, moved to set up a monetary policy committee and took steps to improve transmission of policy among commercial banks. He also vowed to keep inflation low while investing more in the rural economy.
Rajan praised those moves in his policy statement on Tuesday.
"The government has adhered to the path of fiscal consolidation and this will support the disinflation process going forward," he said in the statement. "A reduction in the policy rate by 25 basis points will help strengthen activity and aid the government's initiatives."
'Okay, Fine'
Jayant Sinha, India's deputy finance, told reporters that the government's actions "created the space for monetary easing."
"Now in coordination with RBI we have to amplify both the fiscal and monetary initiatives that are now in the pipeline," Sinha said. "As we do so we believe we will provide a boost to the economy."
Even so, Rajan's extension is not a sure bet. The former finance professor has used his position to weigh in on politically sensitive topics, including a speech last year on the need for tolerance of minority views.
Uncertainty also remains on how a planned national sales tax, oil prices and a proposed rate-setting committee will impact monetary policy, according to Sasha Riser-Kotisky, Asia analyst at the Eurasia Group. He said that Rajan's firm statements on the need for fiscal consolidation has forced both the previous government and Modi's administration to rein in spending to get rate cuts.
"Government has grudgingly come around," he said. "I wouldn't say it is a direct quid pro quo, but Rajan has made his conditions pretty clear and government has said okay, fine."
Before it's here, it's on the Bloomberg Terminal.
LEARN MORE