Rajan Cautious on Panama Papers as Modi Hunts for India Cash
by and
Modi set up probe to investigate citizens named in reports

So-called `black money' has been a hot topic in India politics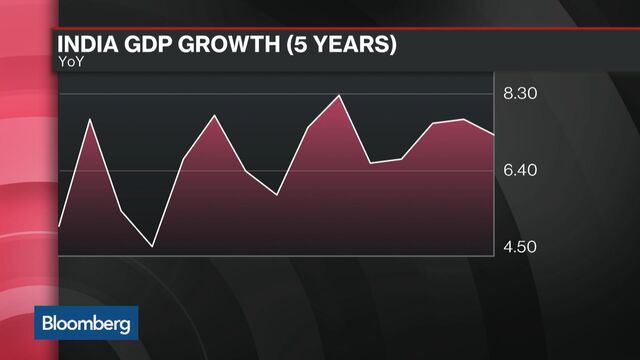 India's central bank Governor Raghuram Rajan urged caution on drawing premature conclusions a day after the government announced an investigation into the reported offshore accounts of hundreds of citizens, from Bollywood stars to business tycoons.
The Reserve Bank of India will participate in a multi-agency probe ordered by Prime Minister Narendra Modi after news reports this week cited leaked files from Panama law firm Mossack Fonseca to shed light on offshore holdings around the globe. The report by the International Consortium of Investigative Journalists, known as ICIJ, says that there's no implication that anyone has broken the law or acted improperly.
"It is important to note that there are legitimate reasons also to have accounts outside," Rajan told reporters in Mumbai on Tuesday when asked about the probe. "We have to see what is legitimate and what is not legitimate."
Undisclosed assets -- referred to locally as "black money" -- have long been a hot political topic in India. Prior to his landslide election win in 2014, Modi promised to bring back enough illicit funds stashed abroad to give each of India's 1.3 billion people as much as 2 million rupees ($30,000) -- almost 25 times the average national income.
200 Complaints
In announcing the investigation on Monday, India's Finance Ministry noted that previous leaks had led to more than 200 complaints for prosecution and brought about 58 billion rupees into government coffers. Those cases were based on a 2013 report by ICIJ and information received from the government of France in 2011 on the Swiss bank accounts of more than 600 Indians. More than 500 Indians are linked to the documents known as the Panama Papers, according to the Indian Express, a local newspaper.
"The government is committed to detecting and preventing generation of black money," the Finance Ministry said in a statement on Monday. "In this context, the expose of Panama Papers will further help the government in meeting this objective."
India has long struggled to bring in enough revenue, leaving it with one of the widest budget deficits among the largest emerging markets. Modi has sought to lure funds from the shadows with windows for individuals to declare income without facing prosecution in cases where wrongdoing is uncovered.
India brought in about 25 billion rupees ($385 million) from a three-month window that ended last year before fines increase on funds stashed abroad. A similar measure has been proposed for local cash.
Bollywood Stars
In 2004, India's central bank allowed companies to invest up to 100 percent of their net worth in certain companies overseas by scrapping a cap of $100 million. It also introduced the liberalized remittance scheme that permitted resident individuals to remit up to $25,000 annually. The limit was raised subsequently in phases.
Indian citizens who were named in reports by ICIJ and the Indian Express include Bollywood superstar Amitabh Bachchan and his daughter-in-law, actress Aishwarya Rai Bachchan; DLF Ltd. Chairman Kushal Pal Singh; and Sameer Gehlaut, co-founder of Indiabulls Financial Services Ltd., which owns India's third-most valuable real estate company.
Complied With Law
Bachchan said he didn't know the companies connected to him in the Indian Express report, and that it was possible his name was misused, according to Times of India, which cited a statement from him. He said he's paid all relevant taxes and complied with the law, the report said. Bachchan and Rai didn't immediately respond to e-mails sent to the address provided by Bachchan's office.
In a statement, DLF said all remittances were reported to authorities, complied with all applicable laws and were in line with opportunities "available to every Indian."
Gehlaut said he made overseas investments after paying full taxes in India, every remittance was recorded with the central bank and all disclosures related to the investments are made in annual reports to the Reserve Bank of India and income tax authorities. Authorities have scrutinized the returns, and they received a clean order with no tax demands, Gehlaut said in an e-mailed statement.
The ICIJ report says that shell companies can be and are used for legal purposes. Mossack Fonseca said it "does not foster or promote illegal acts" and allegations that it helps hide the identities of real owners are "completely unsupported and false." Panama's government said it will cooperate with any legal probe resulting from the data leak, Agence France-Presse reported.
---

---
Before it's here, it's on the Bloomberg Terminal.
LEARN MORE