Pfizer Scrambles to Save Allergan Deal Amid New Tax Rules
by , , and
Lawyers are examining how to challenge U.S. Treasury proposal

High chance merger will fall apart if new rules go ahead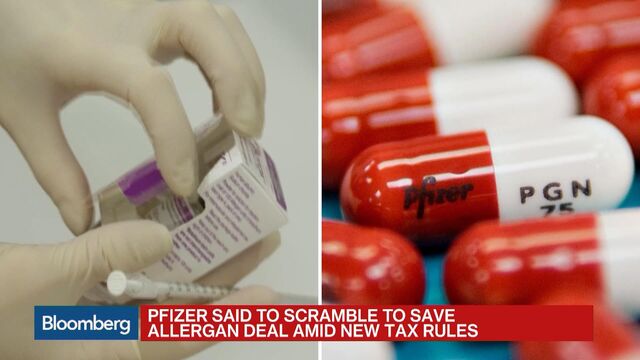 Pfizer Inc. is scrambling to save its planned $160 billion merger with Allergan Plc, which is at risk of falling apart amid the latest U.S. crackdown on corporate inversions, according to people with knowledge of the matter.
Lawyers for Pfizer are examining how they might be able to challenge the U.S. Treasury Department's new rules, the people said, asking not to be identified as the deliberations are private. Fighting the decision in court is one of the options under discussion, as well as restructuring the deal to reduce what Pfizer would pay, they said. No final decision has been made, and advisers to both companies are still analyzing the documents, they said.
The Treasury Department said Monday new rules would limit companies' ability to participate in inversion transactions if they've already done them within the past 36 months. Allergan has been involved in several such acquisitions in that time frame. In a corporate inversion, a U.S. company merges with a smaller foreign firm and then transfers the new company's tax address offshore.
If the rules are implemented as planned, the chances of the deal falling apart are high, the people said. The current structure of the transaction leaves little room for re-negotiation, they said. 
Pfizer's Options
If Pfizer can no longer obtain significant tax benefits from the merger, it may seek to pay less for Allergan, reflecting the smaller payoff, or walk away from the transaction, they said. While the companies had planned for additional intervention from lawmakers, Monday's announcement came as a surprise, they said.
A spokeswoman for Pfizer declined to comment. An Allergan spokesman wasn't available to comment.
Pfizer and Allergan were reviewing the Treasury Department's announcement Monday night, according to a joint statement from the companies.
"Prior to completing the review, we won't speculate on any potential impact," the companies said in the statement.
White House
President Barack Obama praised the Treasury's plan on Tuesday, issuing a forceful denunciation of companies that shield profit overseas through corporate inversions.
"This is something that I've been pushing for a long time," Obama said at the White House. "When companies exploit loopholes like this, it makes it hard to invest in the kinds of things that are going to keep America's economy going strong."
The agency's plans may not hold up in court, said Corey Davis, an analyst at Canaccord Genuity Inc. in New York. Even then, it's unlikely to affect the shuffling of assets that is now under way among Allergan, Pfizer and Teva Pharmaceutical Industries Ltd., which is buying Allergan's generic drugs business, he said, reacting to the rules on Monday.
Allergan, which is run from New Jersey but has a legal domicile in Dublin, last year agreed to merge with Pfizer Inc. in a $160 billion deal that would give New York-based Pfizer a foreign address and a lower tax rate. While not technically a so-called tax inversion, the deal between the drugmakers was criticized as the latest in a series of transactions that saw U.S.-based companies moving their legal addresses overseas to take advantage of lower tax rates.
Shares Down
Allergan shares closed down 15 percent in New York at $236.55, while Pfizer rose 2.1 percent to $31.36.
"The new measures further narrow the escape hatch for U.S. companies seeking to become foreign-parented through an inversion," said Jason Kaplan, a tax partner in the New York office of law firm Hogan Lovells International, in an e-mail.
"This may very well scuttle some inversion transactions currently on track, and arguably seems designed with companies such as Allergan in mind," he added.
Should Pfizer pull the plug on the deal, it may have an easy -- or at least not too expensive -- way out. While the breakup fees for the deal are as high as $3.5 billion, the penalty is much smaller in the event of an "adverse change in tax law." According to the merger document, in such a circumstance Pfizer would only have to reimburse Allergan as much as $400 million for expenses relating to the deal, presuming Monday's Treasury proposal qualified as an "adverse change" as described in the merger document.
Past Breakups
It's not the first time in recent history the Treasury Department has derailed a major drug company deal. In 2014, AbbVie Inc. and Shire Plc agreed to terminate what would've been the biggest U.S. tax inversion at the time, after the Treasury proposed changes to U.S. rules governing such transactions. AbbVie had to pay Shire a breakup fee of $1.64 billion as a result.
To some extent, the era of consolidation among health-care companies appears to be coming to an end, said Bill Smead, chief executive officer at Smead Capital, which holds Pfizer shares.
"The worst thing you can do is sit there and fight," Smead said. "The fact that they have an easy out is a blessing."
Before it's here, it's on the Bloomberg Terminal.
LEARN MORE