Paulson, Loeb, Halvorsen Among Big Losers as Allergan Plummets
by
Each hedge fund shows paper losses of more than $200 million

Paulson, Halvorsen also feeling pain from Valeant's plunge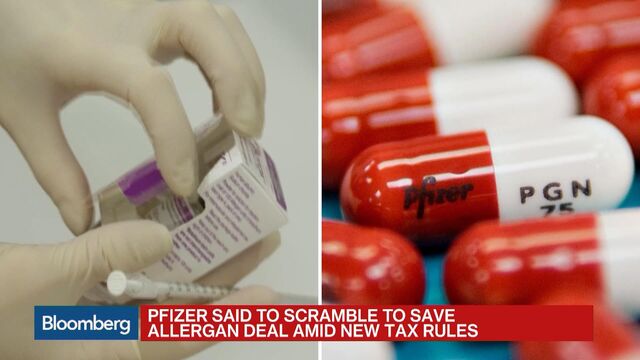 Hedge funds run by John Paulson, Daniel Loeb and Andreas Halvorsen suffered paper losses of more than $200 million each Tuesday after shares of Allergan Plc plummeted on concerns that new U.S. government rules could scotch a planned $160 billion merger between the drugmaker and Pfizer Inc. 
Allergan fell as much as 18 percent as analysts pored over rules issued by the Treasury Department on Monday that would limit companies' participation in tax inversion transactions if they've already done them within the past 36 months. Allergan has been involved in several mergers in that time frame.
In a corporate inversion, a U.S. company merges with a smaller foreign firm and then transfers the combined company's tax address offshore. Allergan, which is run from New Jersey but has a legal domicile in Dublin, last year agreed to merge with Pfizer, the larger of the two firms.
"The real question is whether Pfizer reads today's regs as reason enough to not continue to pursue the deal," wrote Umer Raffat, a senior analyst with Evercore ISI.
At the stock's low point Tuesday, Halvorsen's Viking Global Investors showed a loss of more than $300 million, according to data compiled by Bloomberg. Paulson & Co. lost about $280 million, while Loeb's Third Point was down roughly $275 million. The calculations assume the hedge funds still hold as many Allergan shares as they did at the end of 2015. 
Paulson and Halvorsen trimmed their Allergan stakes in the fourth quarter, filings show. Loeb added more shares.
Valeant Losses
For Halvorsen and Paulson, the latest loss adds to declines the two have experienced on another common holding, Valeant Pharmaceuticals International Inc., which is down more than 70 percent this year. The shares surged Tuesday after a special ad hoc board committee announced that it had found no additional accounting issues at the company that would require more earnings restatements.
Viking's holdings of Valeant have lost more than $900 million in 2016; Paulson's investment has lost more than $500 million. The calculations assume the funds haven't sold any shares this year.
Rose Shabet, chief operating officer for Viking, declined to comment. Messages left for Paulson and Third Point were not immediately returned.
Pfizer and Allergan were reviewing the Treasury Department's announcement Monday night, according to a joint statement from the companies.
Allergan fell 16 percent to $232.09 at 12:12 p.m. on Tuesday.
Before it's here, it's on the Bloomberg Terminal.
LEARN MORE