Merkel Wins IMF, OECD Praise for Refugee Stance as Down Payment
by and
OECD chief Gurria says integration is long-term investment

IMF's Lagarde says `history will remember' German approach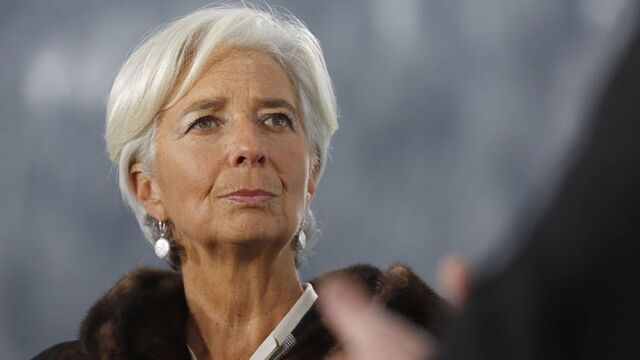 German government efforts to integrate migrants represent a down payment on an investment that will yield dividends for Europe's biggest economy in years to come, according to the head of the Organization for Economic Cooperation and Development.
Over time, integration "is going to be less sexy, less newsworthy, but it's going to be just as critically important," OECD chief Angel Gurria told reporters in Berlin late Tuesday alongside Chancellor Angela Merkel. "It's going to be a down payment of a medium and long-term investment, which is going to provide a generous inter-generational dividend for Germany." He added that "even fiscally it's going to be net positive."
Gurria's contribution came among a litany of praise from the heads of international economic and financial organizations for Merkel's stance on welcoming refugees, a policy in sharp contrast to that of many of Germany's European Union counterparts. Germany took in about 1 million asylum seekers in 2015 as nations such as Hungary fenced off their borders to migrants while others such as Poland and Slovakia refused to accept any share of refugees.
'Salute' for Merkel
International Monetary Fund Managing Director Christine Lagarde used a speech on the world economy earlier Tuesday to laud Merkel and the German public for their efforts. Germany has garnered respect worldwide for its open-doors policy and "history will remember," she said in Frankfurt.
"Here I would like to salute Chancellor Merkel and the German people for their leadership in those difficult times, and facing those hugely important challenges," Lagarde said, in remarks departing from the scripted text of her speech. "I can see on a regular basis, first-hand, the respect that Germany has won around the world for its deeply humanistic approach to the refugee issues."
Message to Germans
Lagarde later traveled to Berlin for an annual meeting with the chancellor along with the heads of the World Trade Organization, the World Bank, the International Labor Organization and the OECD.
"I am an economic migrant," said Jim Yong Kim, the World Bank president, as he told how he arrived in the U.S. from South Korea in the early 1960s. He went on to deliver a message to the German people.
"I know this has been difficult. But I applaud the courage of Chancellor Merkel and the German government and I thank all of you for, in very difficult circumstances, accepting these migrants, these refugees," he said. Germany has shown "a great act of humanitarianism that shouldn't go unnoticed."
Before it's here, it's on the Bloomberg Terminal.
LEARN MORE