Marvell CEO Upheaval Clears Path to Takeover as Activist Presses
by
Husband and wife company co-founders to remain on the board

Changes may make chipmaker more receptive to sale offers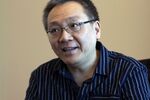 The management changes at Marvell Technology Group Ltd. remove a major hurdle to a possible acquisition of the chipmaker, the target of an activist investor agitating for new leadership amid falling sales and accounting missteps.
Chief Executive Officer Sehat Sutardja and his wife, President Weili Dai, who founded the company in 1995, will leave their executive positions, but remain on the board, Marvell said Tuesday in a statement. An internal investigation last month faulted a "tone at the top" for pressuring sales staff to meet financial targets.
Activist hedge fund Starboard Value took a 6.7 percent stake in the company in February seeking changes to the longtime management and the divestment of some business lines. Marvell has been said to be open to a sale in the midst of its turmoil. Tuesday's shakeup could pave the way for new leadership that will be more receptive to calls for restructuring or acquisition offers, analysts said.
"We believe this will be a catalyst and result in restructuring and/or sales of some or all of its businesses, which we believe will unlock shareholder value," Mike Burton, an analyst at Brean Capital, wrote Tuesday in a note.
The moves are effective immediately and the board will conduct a search for a new CEO and president, Marvell said. Directors asked Maya Strelar-Migotti, executive vice president of the networked devices division, and Pantelis Alexopoulos, executive vice president of the storage business group, to manage the company as co-CEOs on an interim basis.
Family Business
Sutardja will continue as board chairman. Removing Sutardja and Dai from the board may have been a challenge given that Sutardja and his brother, Pantas Sutardja, are among Marvell's top 10 largest shareholders, analysts said. Shares of the chipmaker surged the most in seven years.
"That's the investor criticism -- that Marvell has not been run as a public company, but more as this private kingdom of the founders who've been there for so long," said Daniel Amir, an analyst at Ladenburg Thalmann & Co. "For many years it worked, and now it's not."
Marvell last year announced an investigation into its accounting practices and internal controls. The board's audit committee said in March it found no evidence of fraud, but concluded that some revenue had been recognized prematurely. The report also found that the company had issues with the "tone" from management, including pressuring sales and financial staff to meet revenue targets and the failure to raise concerns about Sutardja's assertion of personal ownership of patents.
In October, PricewaterhouseCoopers LLP resigned as its external accounting firm.
Activists' Push
"This was management capitulating to requests from the two activist shareholders, Starboard and KKR, who obviously want to see some changes," said Gary Mobley, an analyst at Benchmark Co. "There are a litany of issues making management look bad."
Those issues include delayed filings to the Securities and Exchange Commission, a lost patent dispute with Carnegie Mellon University that cost the company $750 million, a failed attempt to penetrate the mobile wireless business and a failure to diversify Marvell's revenue stream, Mobley said. The company derives 40 percent of its revenue from a declining hard disk drive market, he said.
"The board believes that the time has come to move in a new leadership direction," Arturo Krueger, Marvell's lead outside director, said in the statement announcing the changes.
Marvell shares rose 13 percent to $10.89 at 2:37 p.m. in New York, the biggest intraday jump since June 2009.
Marvell said on March 31 that it expects net sales to be "significantly lower" in fiscal 2016 than a year earlier "as a result of decreased demand for its storage products and restructuring of its mobile platform business."

"Marvell has some tough choices it needs to make over the next year -- what businesses it needs to double down in and what businesses it doesn't have scale in," said Anand Srinivasan, an analyst at Bloomberg Intelligence. "Investors perhaps think that now, there will be some changes."
Before it's here, it's on the Bloomberg Terminal.
LEARN MORE