KKR Gets $3.35 Billion for Distressed Fund as Defaults Loom
by
Focus will be on U.S., where credit cycle is in 'late stages'

Distressed oil producer debt not yet cheap, fund co-head says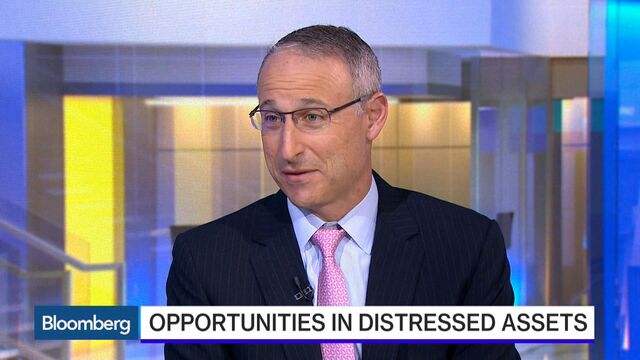 KKR & Co. raised $3.35 billion for its second special-situations fund, exceeding its $3 billion target, as the private equity firm sees a corporate default cycle on the horizon.
"The U.S. is, we think, in the late stages of a credit cycle," Jamie Weinstein, the fund's co-head, said Tuesday on Bloomberg Television. "We've had a very significant boom in credit assets coming out of the market dislocation in 2008 and 2009. As you come to the end of that cycle, you see a rise in defaults."
KKR joins firms such as Oaktree Capital Group LLC, Bain Capital's Sankaty Advisors, Fortress Investment Group LLC and others in raising money for distressed investments as the asset managers see defaults accelerating. Oaktree, the biggest distressed-debt investor, gathered $10 billion for its latest fund, and $7 billion has gone to recent Sankaty and Fortress funds. Carlyle Group LP set a $2 billion target on its fourth special-situations pool, people with knowledge of the fundraising said in January.
KKR started marketing its fund in late 2014 after deploying its first special -situations pool, which had $2 billion, more quickly than it expected. KKR plans to focus the new fund on U.S. companies after the first vehicle deployed most of its capital in Europe, Weinstein said.
The special-situations team, run by New York-based Nat Zilkha and San Francisco-based Weinstein, provides debt or equity to companies that have distressed capital structures or are undergoing events such as restructurings or mergers. KKR has raised $9.1 billion for the strategy across the two funds and separately managed accounts since 2009, the firm said Tuesday. Between 40 percent and 50 percent of backers in the new fund are new clients to the firm, Scott Nuttall, KKR's head of global capital and asset management, said on a February conference call with investors and analysts.
The firm's first special-situations fund was producing a 7 percent annualized return and was valued at 1.2 times cost as of Dec. 31, compared with a 15 percent return and 1.2 times valuation a year earlier, regulatory filings show.
Energy Timing
KKR's special-situations team, which is part of the firm's larger $34 billion credit operation, has invested in European vending machine operator Selecta Group, portfolios of container ships, German soccer club Hertha Berlin, hospice-care provider Amedisys Inc. and Indonesian food business TPS Group, among others. Last year, KKR started Pillarstone, a business that restructures companies underlying European banks' nonperforming loan portfolios.
While many institutional investors are asking their asset managers if it's time to invest in energy, the debt of distressed U.S. oil producers doesn't trade cheaply enough yet for KKR to buy, Weinstein said. Energy companies also aren't yet willing to raise new money at lower valuations, he said. The trigger that will allow private-fund money to flood in will be when producers' hedges end, their bank credit lines shrink and they run out of cash, he said.
West Texas Intermediate crude has slumped about 70 percent since mid-2014 due to weaker global demand, especially in China, and a glut in global supply, imperiling U.S. drillers.
"They're certainly feeling the pain, but the issue is more what behavior they follow," said Weinstein. "Oil and gas companies will continue drilling until they run out of their last dollar."
KKR, run by Henry Kravis and George Roberts, oversaw $120 billion in private equity holdings, credit assets, real estate and hedge funds as of Dec. 31.
Before it's here, it's on the Bloomberg Terminal.
LEARN MORE