Jagger Says `Brexit' May Bring U.K. Satisfaction -- Eventually
by
Rolling Stones front man makes comments in Sky News interview

Says exit may be detrimental short-term, beneficial long-term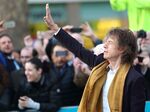 Rolling Stones front man Mick Jagger intervened in David Cameron's campaign to keep Britain in the European Union by saying an exit from the bloc might eventually benefit the country.
Acknowledging that the referendum on June 23 won't make a "huge difference" to him personally, Jagger said in an interview with Sky News television posted on the broadcaster's website on Tuesday that while he sees short-term risks to a so-called Brexit, it could pay off after a couple of decades.
"I think to the country in the short term it will be detrimental if we stay out," Jagger said. "In the longer term, in a 20-year term, it might turn out to be beneficial."
With just over two months to go before a vote that's already split Prime Minister Cameron's Conservative Party, polls remain close, with those backing remaining in the EU narrowly in the lead. The Leave.EU campaign, one of the groups pushing for Brexit, seized on Jagger's remarks, tweeting an image of the singer against a British flag with the slogan "Let's move like Jagger and get out of the EU."
With Cameron campaigning for in, and several of his own ministers backing an exit, speculation is increasing that a no vote could force the prime minister to step down.
"I wonder if David Cameron, if he was asked today, whether he would actually
want to put this out for a referendum now," Jagger mused.
Cameron pushed the case for staying in at a campaign event in Birmingham, central England, on Thursday, telling his audience that "if we left the EU it's pretty clear, and the Bank of England has said this, there'd be a shock to our economy, and we would suffer in terms of a fall in our currency, a fall in our GDP, our output."
Before it's here, it's on the Bloomberg Terminal.
LEARN MORE