Currency Traders Brace for Wild Ride as Volatility Curves Invert
by
Gauges of short-term price swings exceed longer-term measures

Hedge funds are preparing for more turbulence after Q1 losses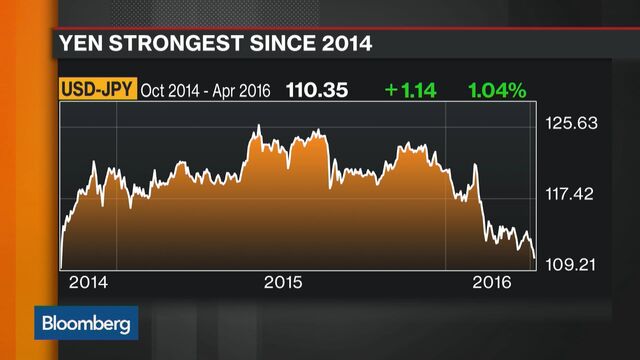 The $5.3 trillion-a-day foreign-exchange market is getting turned on its head.
For the first time since 2010, traders of all five of the world's most-transacted currency pairs are more wary of price swings in the next three months than over the next year. Typically, longer-term measures of volatility are higher to account for future uncertainty.

The last time the volatility measures were all inverted, markets were caught in the midst of the Greek debt crisis. It's easy to see why traders are worried once again. Even as slow growth and tepid inflation from Europe to Asia threaten to derail Federal Reserve efforts to raise interest rates, many investors remain steadfast that policy makers will hike in June. The U.K. votes on whether to leave the European Union the same month, while Republicans and Democrats across the U.S. must settle on their preferred candidates for president in July.
"A lot of the short-term risk that you're looking at now is not very much driven by economic fundamental drivers; it's more event risk and political risk," said Samir Sheldenkar, an investment partner at Harmonic Capital Partners in London, which managed about $1.9 billion as of Dec. 31. "You have to worry about that volatility and you have to adjust your positions accordingly."
While Sheldenkar is the first to admit that higher volatility creates opportunities, sudden jolts make it harder for asset managers to capitalize on trends. Currency-focused hedge funds have lost 3 percent this year after their worst month in at least a decade in March, according to a BarclayHedge gauge.
Challenging Chop
Three-month measures of future price swings in the yen, pound and Australian and Canadian dollars versus the greenback have surpassed one-year gauges for almost two weeks, while expectations for short-term price swings in the euro reached the highest relative to longer-term measures in more than a month last week.
"We've got event risk all over the place," Bluford Putnam, chief economist at CME Group Inc., said at an event in New York on March 28. "That's what I think is going to move foreign-exchange markets among the majors."
Implied volatility jumped in the second half of March amid see-sawing rhetoric from the Fed. Policy makers first lowered projections for rate increases this year, then suggested a hike could come as soon as April, before Chair Janet Yellen reiterated that the central bank should "proceed cautiously" in raising rates. Global developments -- particularly regarding China and the price of oil -- pose risks to the Fed's outlook, Yellen said.
Fed officials are still forecasting two interest-rate increases in 2016, after December's first hike in almost a decade. That's in contrast with market wagers, with traders assigning coin-flip odds to whether the central bank will be able to raise rates even once this year.
"Markets will continue to be pushed around by the Fed's 'will they, won't they?'," said Paresh Upadhyaya, director of currency strategy in Boston at Pioneer Investments, which oversees about $236 billion. "Concerns remain about China growth, about global growth as a whole, commodity prices and what that means for currencies, and therefore we could see follow-through volatility."
Brexit Bets
Politics are also lifting volatility, Upadhyaya said, pointing to the U.K. referendum on exiting the EU, which could lead to a "Brexit."
Polls show the vote is too close to call, with the Bank of England listing "Brexit" at the top of its list of near-term domestic threats to financial stability. Pacific Investment Management Co. sees about a 40 percent probability that Brits vote to leave Europe's common market on June 23, while an Opinium poll conducted for the U.K.'s Observer newspaper and published April 1 showed the electorate choosing 43 percent to 39 percent to quit the EU.
Hedge Fund Pain
Expectations for further price swings come after global currency volatility rose 1.3 percentage points in the first quarter, the biggest leap in the first three months of a year since 2008, a JPMorgan Chase & Co. index shows.
Speculators have pared positioning amid the volatility, cutting bets on dollar strength versus eight of its peers to the lowest since July 2014, according to Commodity Futures Trading Commission data.
"People have just moved to the sidelines," said Jason Leinwand, a New York-based managing director at Riverside Risk Advisors LLC, which advises clients on foreign-exchange risk and hedging strategies. "The hedge fund community usually lives on volatility and they're getting hurt by it this time around."
Before it's here, it's on the Bloomberg Terminal.
LEARN MORE