business
Credit Suisse CEO Says Risk `Well Managed' After $1 Billion Loss
By and
Thiam says firm needs to `re-adjust our risk appetite'

CEO says he's been `very transparent' in description of losses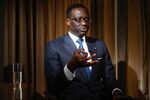 Credit Suisse Group AG, which lost almost $1 billion since October on soured credit positions that took some top managers by surprise, is in control of the risks that it takes, according to Chief Executive Officer Tidjane Thiam.
"Our operational risk is very well-managed," Thiam, 53, said Tuesday in a Bloomberg Television interview with Rishaad Salamat in Hong Kong. "We've very tight procedures around that, and we operate under satisfaction of regulators."
Thiam is seeking to restore investor confidence in Zurich-based Credit Suisse as he accelerates a restructuring and faces confusion over losses on risky fixed-income trades. The CEO, in control since June, initially said traders amassed risks without the knowledge of senior executives. Chairman Urs Rohner later said there were no "blind spots" and losses arose from how the investments were "managed, valued and traded."
"I've just been very transparent about the sequence of events and what happened," said Thiam. "What matters is really what we do going forward and ensuring we have the right escalation processes in the place."
Credit Suisse lost $633 million in the fourth quarter of 2015 as it wrote down the value of securitized products, distressed bonds and assets tied to leveraged finance underwriting and corporate lending. The lender wrote off another $346 million this year through March 11, according to a March 23 presentation.
Thiam, who has said he first became aware of the extent of the positions in January, has responded by pulling the bank out of trading securitized products in Europe, distressed debt and "long-term illiquid financing," the presentation shows. The CEO intends to reduce the global markets unit's risk-weighted assets to $60 billion this year from $75 billion in December.
"The level of losses we can now support with a smaller bank is lower," said Thiam. "So we need to re-adjust our risk appetite and that process is under way."
Before it's here, it's on the Bloomberg Terminal.
LEARN MORE