China's Ex-Top General Faces Trial Over `Enormous' Bribery
by
Charges against Guo Boxiong come as Xi expands military reform

Highest-level graft case to hit army in more than six decades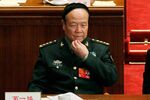 A retired top general of the People's Liberation Army has been formally charged with taking bribes and will face court martial in China's highest-level military corruption case in more than six decades.
Military prosecutors found Guo Boxiong, 73, who until 2012 was China's highest-ranking uniformed officer, took advantage of his position to help others secure promotion and accepted bribes directly and through family members, the official Xinhua News Agency said Tuesday. "The amount was enormous, evidence was solid and abundant," prosecutors were quoted as saying by Xinhua. Guo has admitted to wrongdoing, they said.
The charges against Guo come as President Xi Jinping implements a plan to overhaul the military and turn it into a modern fighting force able to project power further from the country's coasts. The military has blamed corruption for undermining the troops' combat-readiness and Guo's prosecution represents one of the most powerful targets of a three-year-old anti-graft campaign.
The bribes that Guo and his family were accused of taking exceeded 76 million yuan ($11.7 million), according to people who saw a document detailing the investigation's findings. The Ministry of National Defense didn't immediately respond to a faxed request for comment.
PLA Purge
Dozens of senior officers have been purged from the PLA in the past three years. Guo's decade-long tenure as vice chairman of the decision-making Central Military Commission ended in November 2012, the same time that Xi took control of the body. Xi had also investigated Guo's fellow vice chairman, Xu Caihou, for corruption before the retired general died of bladder cancer in March 2015.
Guo had overseen the PLA's equipment purchases and military technology. He joined the army in 1961 and served as the top commander of major military regions including the Lanzhou Military Command and Beijing Military Command, according to his official biography. He sat on the Communist Party's ruling Politburo until 2012 and was expelled from the party when the investigation was announced in July.
An editorial by the official People's Liberation Army Daily and carried on the defense ministry's website Tuesday said Guo and Xu had "brought their misfortune upon themselves, and deserved what they got."
"They vocally expressed loyalty, but deep in their souls they have apparently split with the party and the people," the newspaper said.
Before it's here, it's on the Bloomberg Terminal.
LEARN MORE