China Inflation Risk Flagged by Bonds as Goldman Sees Recovery
Bloomberg News
Spread between one-, 10-year bonds widens fastest since June

Consumer price gains may cross 3% in second half, Haitong says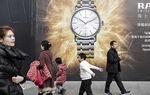 China's bond market is showing more concern about inflation just as Goldman Sachs Group Inc. forecasts a pickup in the world's second-largest economy.
The gap between short- and long-term yields widened at the fastest pace since June last month, pushing the curve to the steepest since October. The 10-year sovereign bond yield has risen 14 basis points from a seven-year low of 2.72 percent in January, reflecting a greater exposure to losses should the market turn, while that on one-year debt slid 20 basis points to 2.09 percent.
While Chinese stocks and the yuan rallied in March amid a rebound in the outlook for manufacturers, risks are lurking in a surge in prices for everything from pork to apartments. A report due next week will probably show inflation climbed to 2.4 percent in March, still well below the People's Bank of China's 3 percent target but enough to give it pause before easing monetary policy. That could undermine a bond rally that has stretched for nine straight quarters.
"With food prices climbing continuously, inflation risk is surfacing," said Gu Xiaoxiao, an analyst at Haitong Securities Co., which was graded the best in fixed-income research by China's New Fortune magazine in 2015. "The increase in the consumer price index may be within the government's target of 3 percent in the first half of this year, but it could break that in the second half. We predicted two more interest-rate cuts previously, but now it seems unlikely."

The People's Bank of China has lowered benchmark interest rates six times since 2014, helping fuel an advance in the bond market and driving debt to a record 247 percent of gross domestic product in 2015. The Bloomberg China Sovereign Bond Index has advanced 23 percent since the beginning of 2014 as the economy expanded at the slowest pace in a quarter century.
Among the major risks for the bond market are signs that the government's efforts to stimulate the economy are finally beginning to take effect. Industrial profits climbed 4.8 percent in the January-February period from a year earlier, snapping a seven-month losing streak, while expansion in real-estate development investment climbed to 3 percent after falling for two years. The M1 measure of money supply expanded at the fastest pace in five years in January.
'Underlying Strength'
While factory production growth slowed to 5.4 percent in February, there's more underlying strength than meets the eye, Goldman Sachs Group Inc. economists including Song Yu and MK Tang wrote in a report. The measure is likely to stage a meaningful rebound in March, and economic growth will accelerate in the second quarter, according to Goldman analysts including Song Yu, the best overall forecaster of China's economy in Bloomberg Rankings for the past two years.
Property prices rose in the most cities since March 2014 in February, with that for new homes soaring 21 percent in Shanghai and prompting the financial hub to restrict buying by non-locals. Meanwhile, hog prices, a key component of the consumer price index, surged to a record in March, Shanghai Securities News reported last week.
Ma Jun, chief economist at the PBOC's research bureau, said in an interview with China Business News that CPI growth will probably be faster in 2016 than last year as food prices jump and homes become more expensive. It usually takes about 15 months for monetary policy actions to be fully reflected in the index, he said. Deflation pressure may ease this year, as consumer prices will probably rise due to higher prices for necessities and the government's policies seeking to curb overcapacity, the price monitoring center of National Development and Reform Commission said in an article published in the China Securities Journal.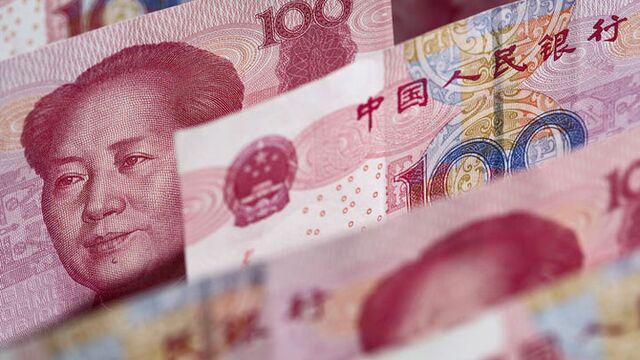 Pork Effect
"As pork prices will continue to be under pressure for a further increase in the first half, and there's little chance home prices will reverse their uptrend in the medium- to long-term, the market expects inflation to rise, limiting the downside for bond yields," said Ming Ming, a fixed-income analyst at Citic Securities Co. "Investment in the real-estate sector is expected to gain further, leading to a higher probability of a rebound in the economy, which also brings negative news to the bond market."
The cost of one-year interest-rate swaps, the fixed payment to receive the floating seven-day repurchase rate, climbed one basis point to a six-week high of 2.33 percent on Wednesday. The non-deliverable one-year rate swaps rose three basis points, the most in two weeks, to 2.30 percent, the highest since November.
China's top legislature has set this year's debt as a percentage of GDP at a record 3 percent as the government plans to use proactive fiscal policy to boost growth. Local authorities will issue 1.18 trillion yuan ($182 billion) of bonds, compared with 600 billion yuan last year.
"This year's theme will be inflation," said Shi Xiang, a Shanghai-based bond investment manager at China Merchants Bank Co. "The CPI data in the next couple of months should verify our call. Without many other choices, investors consider short-end of the curve are still offering some value amid interest-rate risks. Still, the simple and eternal rule is that when the market rallies too long, it will correct."
— With assistance by Helen Sun
Before it's here, it's on the Bloomberg Terminal.
LEARN MORE