China Forex Losses Jump 13-Fold as Investors Brace for More
By and
`Continued yuan depreciation' to hurt bottom lines: Schroder

Air China, Agile Property to cut exposure to dollar debt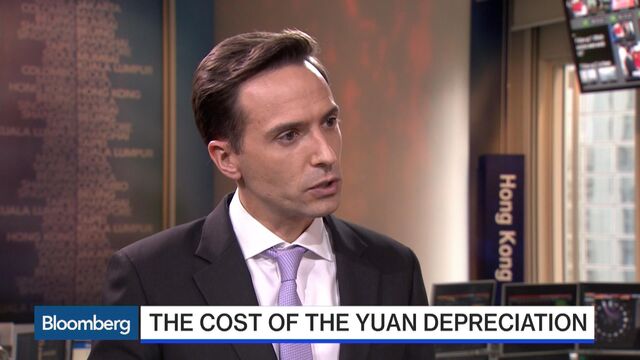 The impact of August's yuan devaluation has shown up in Chinese publicly traded companies' annual results -- and investors are bracing for more pain.
Some 980 listed Chinese companies reported combined foreign-exchange losses of 48.7 billion yuan ($7.5 billion) for last year, almost 13 times the amount in 2014, Bloomberg-compiled data show. Profits at those firms slumped 11 percent last year to 789.2 billion yuan. State-owned oil refiner China Petroleum & Chemical Corp., or Sinopec, reported 3.9 billion yuan in net FX losses, increasing from 179 million yuan in 2014.
The yuan's 4.5 percent tumble last year, the largest since 1994, swelled financing costs for Chinese companies, the biggest dollar borrowers in Asia. More depreciation in January triggered a global stock rout and contributed to a 31 percent first-quarter drop in Chinese dollar bond sales. While the renminbi has rallied against the U.S. dollar for two months, it is still weakening against a basket of currencies.
QuickTake The People's Currency
"Continued yuan depreciation will definitely impact Chinese companies' bottom line," said Raymond Chia, the Singapore-based head of credit research for Asia excluding Japan at Schroder Investment Management Ltd., which manages about $446.5 billion. "In some cases, the impact is severe. Although one can argue FX impact is non-cash, it does impact the company's credit ratios and debt servicing ability."

The airline sector was hurt most with a combined foreign-exchange loss of 17.9 billion yuan for 2015, compared with 951.7 million yuan a year earlier, Bloomberg-compiled data show. The big three state-owned airlines -- China Southern Airlines Co., China Eastern Airlines Corp., Air China Ltd. -- suffered the equivalent of $2.5 billion in FX losses.
China Southern Airlines had the biggest FX loss among all companies of 5.7 billion yuan in 2015. An official in investor relations department at the airline, who asked not to be identified, said Tuesday the carrier plans to cut the proportion of its dollar debt to 50 percent of the total by year end from 61 percent currently by refinancing with onshore yuan bonds. Two calls to the investor relations department of Sinopec went unanswered. 
China's real estate companies, Asia's biggest dollar high-yield borrowers, were the second most-hit with combined foreign-exchange losses of 11.9 billion yuan, up from 1.4 billion yuan in 2014. Evergrande Real Estate Group Ltd. said on March 29 its FX loss from borrowings was 2.84 billion yuan in 2015, or 27 percent of its net income, up from 47 million yuan in 2014. Agile Property Holdings Ltd., based in the southern province of Guangdong, recorded FX losses from borrowings and convertible bonds of 1.13 billion yuan in 2015, compared with 83 million yuan in 2014, according to its March 23 earnings.
"Agile will continue to cut FX exposure by part repaying offshore debts and using onshore financing for local projects," said Maggie Chui, an outside consultant for the company at IPR Ogilvy & Mather. "Furthermore, the company has done some FX hedging deals in 2016."

Jimmy Fong, investor relations official at Evergrande, said the builder will consider issuing more onshore bonds to lower costs and will consider early dollar debt redemption if costs are attractive.
Chinese firms have cut foreign-exchange risk by redeeming $2.24 billion of overseas notes before maturity this year, up from $925.8 million a year earlier, Bloomberg-compiled data show. Six of the eight companies that called bonds were builders, which had binged on dollar notes amid cheaper rates offshore and restrictive rules on local issuance. 
The amount of foreign-currency debt hedged by Chinese companies has risen to about 50 percent of their total debt now, up from around 15 percent before the August devaluation, according to Sue Trinh, Royal Bank of Canada's head of Asia FX strategy.
China Oilfield Services Ltd. plans to raise 10 billion yuan to pay back dollar bonds that account for 95 percent of debt, chief financial officer Li Feilong said at a press conference in Hong Kong on March 30. Air China plans to cut U.S. currency debt to 60 percent of its total by year-end from 73.5 percent at the end of 2015, Lv Lingfei, deputy general manager of finance, said at a briefing in Hong Kong on March 31.
Chinese companies have become increasingly aware of exchange-rate risk and started to consider hedging dollar liabilities about a year ago, said Raymond Yeung, a Hong Kong-based senior economist at Australia & New Zealand Banking Group Ltd. "However, it was not until the sharp depreciation last August that they paid serious attention to the issue."
The yuan has dropped about 4.1 percent against the dollar since the August depreciation. Among the worst-hit industries were energy and mining, with foreign-exchange losses of 5.5 billion yuan and 3.9 billion yuan in 2015, respectively, the data show.
"Chinese companies have been under downward economic pressure, which is exacerbated by FX losses," said Cheng Shi, co-head of research at ICBC International Research Ltd. "There are high chances for the yuan to depreciate this year with rising volatility. Companies should be more aware of FX risk."