China Acts on UN Sanctions by Banning North Korean Coal, Iron
Bloomberg News
Neighbor's coal imports represent 40% of Pyongyang's trade

U.S., allies seek economic squeeze to force Kim to negotiate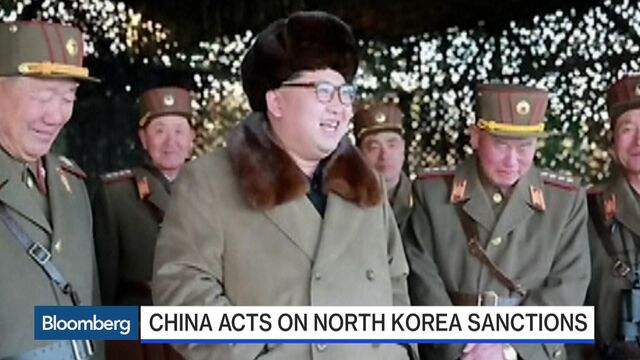 China made good on its pledge to support a key provision of United Nations sanctions over North Korea's nuclear weapons program, banning imports of coal, iron ore and other commodities from its reclusive neighbor.
The Ministry of Commerce in Beijing announced the ban Tuesday after Chinese President Xi Jinping returned from the Nuclear Security Summit in Washington, where he huddled with U.S. counterpart Barack Obama over efforts to bring North Korea back to the negotiating table. The measure, which includes gold, titanium, vanadium and rare earth imports, also restricts jet fuel exports from China.
China's support for UN sanctions over Kim Jong Un's nuclear weapons program last month was crucial because North Korea relies on two-way trade for food, arms, energy and hard currency. While North Korean coal represents less than 10 percent of China's import volumes, the commodity accounts for more than 40 percent of the North's overall exports to the country in U.S. dollar terms, according to General Administration of Customs data.
China imported 19.6 million metric tons of coal from North Korea last year, compared with total inbound coal shipments of 204 million tons, according to customs data. The world's biggest coal producer slashed imports 30 percent last year and is on track to mine 3.65 billion tons of the fuel this year.
The strength of the new ban remains to be seen. The U.S. and its allies have long complained about rampant smuggling across the Chinese border and North Korea had exported coal in violation of previous sanctions.
The Communist Party in Beijing wants to avoid toppling Kim's regime or causing a breakdown in ties between the two Cold War-era allies. To secure China's support for the latest measures, U.S. accepted provisions to limit "adverse humanitarian consequences" for North Korean civilians.
North Korea tested what it said was its first hydrogen bomb on Jan. 6 and followed up with the launch of a satellite on a rocket on Feb. 7. Most Western analysts expressed skepticism about whether the nuclear test really was a hydrogen bomb.
— With assistance by Keith Zhai, and Feiwen Rong
Before it's here, it's on the Bloomberg Terminal.
LEARN MORE