Cameron Must Explain Family's Tax Arrangements, Corbyn Says
by
Probe must cover U.K. overseas territories, Labour leader says

Panama Papers described as showing `industrial-scale' evasion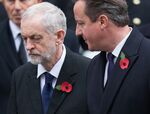 U.K. opposition leader Jeremy Corbyn said Prime Minister David Cameron should explain his family's tax arrangements after documents leaked from a Panama law firm, Mossack Fonseca, included details of an offshore investment fund of which the premier's late father, Ian, was a director.
"The prime minister, in his own interest, ought to tell us exactly what's been going on," Corbyn, who heads the Labour Party, said Tuesday in televised comments.
Reports Sunday based on 11.5 million documents from the Panamanian firm suggested politicians and business figures had channeled billions through offshore accounts. Coverage dominated U.K. media on Tuesday, with "Cameron dragged into tax havens storm" the headline in the Conservative-supporting Daily Mail newspaper.
Cameron's office said Tuesday the prime minister does not own shares in any companies. The prime minister's spokeswoman, Helen Bower, told reporters at a regular briefing in London on Monday that the story about his father was old and declined further comment. Asked if anyone from the Cameron family still had money in any companies like this, she said the matter is "private."
"It's a private matter insofar as it's a privately held interest, but it's not a private matter if tax has not been paid," Corbyn said. "So an investigation must take place, an independent investigation, unprejudiced, to decide whether or not tax is owed."
The Guardian newspaper reported Monday that the fund linked to Ian Cameron had never paid U.K. tax on its profits.
'Industrial Scale'
Corbyn also urged Cameron to crack down on tax evasion and avoidance in British overseas territories.
"We've got revelations of tax avoidance on an industrial scale, of companies being set up in the British Virgin Islands and then moving themselves across to Panama, not paying any tax anywhere," the Labour leader told BBC Television. "The more the revelations come out," he said, "the more murky the whole thing becomes."
Bower said Cameron had put action to clamp down on offshore tax avoidance "front and center" of the U.K.'s G-8 presidency in 2013. The government is due to host an anti-corruption summit in London in May.
Before it's here, it's on the Bloomberg Terminal.
LEARN MORE