BOJ May Hit Bond Purchase Limit in 2017, Ex-Deputy Governor Says
by and
Iwata sees negative rate policy is likely option for next step

Central bank isn't likely to make the cut this month, he says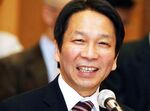 Former Bank of Japan Deputy Governor Kazumasa Iwata said the central bank will run up against the limits of bond purchases by mid next year, making the negative interest rate the BOJ's key tool for monetary policy.
Iwata, who was on the central bank board from 2003-2008, thinks Governor Haruhiko Kuroda can take a little more time to assess the impact of the current rate and is likely to hold off changing policy at the next meeting on April 27-28.
"As for how low is appropriate, minus 0.7 percent, or if you want to have some room, it would be around a negative 1 percent," Iwata said in an interview with Bloomberg on Monday. "If they don't cut to that level, there would be a risk for returning to deflation."
When pressed about whether he thought the BOJ could make a leap from the current rate of minus 0.1 percent in one step, he said, "that's what I personally think." In additional comments made on Tuesday, Iwata said that his expectation is that the BOJ will "ultimately" shift the rate to negative 1 percent, without indicating whether this would be done in one or several steps.
While the negative rate hasn't turned around sentiment among Japanese companies and households, Iwata said it will lower borrowing costs and help change behavior. The stakes are rising for the BOJ, with recent surveys indicating waning expectations for inflation and economists split on the likelihood of a move by the BOJ at the meeting this month.

"The BOJ just introduced a negative interest rate in January, so this is the time to gauge how its impact will spread," said Iwata. "There is a limit to expanding bond purchases, so I expect they will cut the current minus 0.1 percent rate sometime in the future."
Kuroda has said repeatedly in recent months that he doesn't see any limits on the horizon to his bond-buying program.
Iwata, who is currently the president of the Japan Center for Economic Research, was seen as a potential contender to be the governor of the BOJ in 2013 before Kuroda was chosen.
Kuroda said Tuesday that the combination of policy measures chosen for any additional stimulus will depend economic conditions. He reiterated that he won't hesitate to adjust policy if needed.
Credit Suisse Group AG is among those foresting more stimulus this month. Barclays Plc thinks July is probable but sees potential for a move in April. JPMorgan Chase & Co estimates the chances of no move this month at 80 percent.
Japan's economy has shown insufficient momentum to get price gains to the BOJ's 2 percent inflation target. Sentiment among large manufacturers dropped to the lowest level since mid-2013 last month and the inflation outlook is the lowest since at least 2014, BOJ reports showed in the past week.
Before it's here, it's on the Bloomberg Terminal.
LEARN MORE