Bankers Risk Losing Millions If Pfizer-Allergan Deal Dies
by
Biggest deal of 2015 could break up on U.S. inversion rules

Banks are estimated to earn about $236 million in fees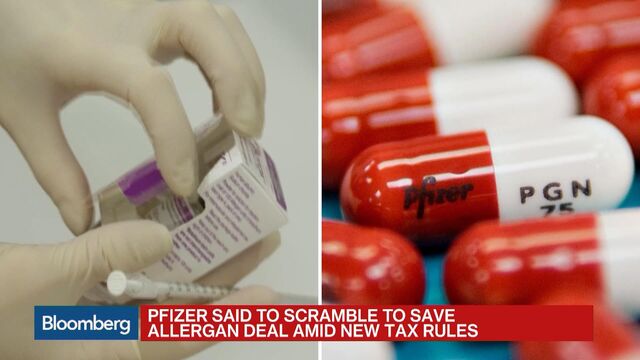 After putting together the biggest transaction in a record year for deals, advisers on Pfizer Inc.'s $160 billion merger with Allergan Plc may be about to watch millions of dollars in fees evaporate.
The deal could be in jeopardy after the U.S. took tougher steps this week to limit corporate inversions, where a company adopts a foreign address to cut its tax bill. New York-based Pfizer structured the deal to take advantage of Allergan's Dublin headquarters where the corporate tax rate is more favorable.
At stake for advisers is $236 million in fees, according to updated estimates from consultants Freeman & Co. Pfizer was expected to pay about $94 million while Allergan's bankers would split $142 million. If the deal falls apart, the banks may get paid 10 percent of that amount, the consulting firm said on Tuesday.
Goldman Sachs Group Inc., Centerview Partners, Guggenheim Partners and Moelis & Co. worked for Pfizer. Allergan was advised by JPMorgan Chase & Co. and Morgan Stanley.
Freeman had previously estimated at the time of the deal that the advisers could earn as much as $350 million in fees.
The loss of this deal could be particularly harmful for smaller investment banks, which had gained standing in M&A league tables after working on a mega-deal. 
Moelis fell 4.6 percent at 4:02 p.m. in New York Stock Exchange trading. Allergan-Pfizer had helped Moelis jump to 13th place in merger-advisory league tables in 2015, up from 27th in 2014, according to data compiled by Bloomberg. Closely held Guggenheim rose 32 spots to end 2015 in 12th and Centerview moved up two spots to 10th.
The Treasury Department said the rules would limit companies' ability to participate in inversion transactions if they've already done them in the past 36 months. Allergan has been involved in several mergers in that timeframe. Pfizer and Allergan said Monday that they would review the Treasury Department's announcement, declining to comment further on the potential impact to their agreement.
Before it's here, it's on the Bloomberg Terminal.
LEARN MORE