Ukrainian Leader Defends Offshore Assets Amid Panama Leak
by
Poroshenko says he hasn't managed his assets during presidency

His legal advisers call tax-evasion allegations unfounded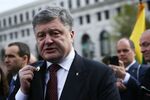 Ukrainian President Petro Poroshenko and his advisers defended the management of his business assets through an offshore holding company created with the help of the Panama-based law firm at the center of a global tax-evasion leak.
Poroshenko said Monday on Twitter that he hasn't managed the assets, including confectionery company Roshen, since becoming president in 2014, handing the duties to consulting and law firms. His legal adviser, Kiev-based Avellum, called tax-evasion allegations unfounded, saying Roshen met all its Ukrainian tax obligations. Transferring the assets to the holding company in the British Virgin Islands was a necessary step in moving them into a blind trust, Avellum said.
As part of a potential sale of Roshen, its plant in the Russian city of Lipetsk may be sold separately from the rest of the business, presidential adviser Makar Pasenyuk told reporters Monday evening in Kiev.
The comments come after a report by the International Consortium of Investigative Journalists, or ICIJ, which said Poroshenko may have acted illegally by starting a new company while president and by not reporting it on his disclosure statements. The ICIJ cited a leak covering documents spanning leaders and businesses across the globe between 1977 and 2015 from Panama-based Mossack Fonseca, a top creator of shell companies that has branches in Hong Kong, Miami, Zurich and more than 35 other places around the world.
Poroshenko Woes
The storm adds to headaches for Poroshenko, whose popularity has fallen since taking office after a street revolution demanding European levels of transparency following decades of misrule. His party is struggling to assemble a new ruling coalition to address concerns among voters and foreign donors at delays in anti-corruption efforts. The International Monetary Fund has frozen disbursements from a $17.5 billion bailout.
Commenting on Facebook, Oleh Lyashko, whose Radical Party was once a member of the coalition, urged parliament to set up a commission to investigate the report about the president. Poroshenko is visiting nations that have pledged billions of dollars in bilateral aid, traveling to Washington last week and Tokyo this week.
"Poroshenko's credibility in the eyes of Ukraine's Western allies will take a massive hit at a time when political infighting has already delayed the release of IMF loans," London-based risk analysts Verisk Maplecroft said in an e-mailed note.
Poroshenko was one of 12 current and former world leaders to have offshore holdings revealed in the leak that's come to be called the Panama Papers. While offshore holdings can be legal, documents show some banks and law firms failed to follow requirements to check their clients aren't involved in crimes.
---

---
Before it's here, it's on the Bloomberg Terminal.
LEARN MORE