Three-Minute Pizza: Domino's Recipe to Extend an 800% Stock Gain
by
Australian chain trials high-speed ovens and delivery robots

CEO Meij says he's targeting takeaway pizza in three minutes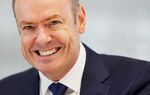 Domino's Pizza Enterprises Ltd., whose stock has jumped more than 800 percent in five years, wants to take fast food to another level: the three-minute pizza.
Australia's biggest pizza chain is trialling high-speed cooking technology and military-grade delivery robots in a bid to cut typical baking and delivery times by more than half, Chief Executive Officer Don Meij said in an interview. He's calling it Project 3-10: pizza ready to take away in three minutes, or at your door in 10.
"The growth that's going to come from that is mind-boggling," said the 47-year-old, who started his three-decades long career at Domino's as a delivery driver.
Meij's challenge is to maintain growth that in the past decade swelled profit tenfold and turned Domino's into Australia's best-performing consumer stock. Having persuaded customers to order more using their mobile phones, Meij is asking them to embrace other innovations to get fed faster -- like a 180-kilogram (397 pound) wheeled robot that scans an eyeball before handing over hot pizza and chilled soda.
In the past 10 years, Domino's investors received a total return of more than 2,000 percent as profits surged, according to Bloomberg data. Yet expectations are cooling: the stock is projected to advance only 6 percent in the next year, following average gains in the past seven years of 60 percent, the data show. It was at A$57.08 as of 1 p.m. on Monday in Sydney.

Domino's Pizza Enterprises, based in Brisbane, is the biggest franchisee outside the U.S. for the takeaway brand owned by Domino's Pizza Inc. In addition to outlets in Australia and New Zealand, it also operates chains in Japan and some European nations, and has a market value of A$5 billion ($3.8 billion).
Making fresh pizza from scratch in three minutes requires new ovens that blast heat in several directions, according to Meij. In trials, such technology has already halved cooking times to four minutes. And while the three minute target for takeaway food has so far remained elusive, Meij reckons that the goal of 10-minute deliveries for most Australian orders is attainable within three years.
Robot Trials
Domino's is set to trial robotic pizza deliveries this month in Brisbane, and the machine should be in service on Australian streets in 2018, said Meij. It will be more cost-effective and safer than a human courier, Meij said. It's even able to cook on the move.
Yet Meij's latest targets also depend on thousands of new shops to cut delivery distances. 
"Ultimately, we need more stores," said Meij. "We need to get the kitchen closer to you and get the kitchen really efficient."
By 2025, the group could be running 4,250 stores worldwide, according to a February presentation by Meij. To hit that target -- almost an additional 2,000 stores -- Domino's needs to open about one new shop every other day.
The company may enter more markets in 2017, either by buying existing Domino's chains or converting local pizza companies, he said.
"While we're in three regions in the world right now, we're not opposed to being in a fourth," he said. "We'd like to do more countries."
Before it's here, it's on the Bloomberg Terminal.
LEARN MORE