Tesla Deliveries Miss Forecast as `Hubris' Hurts SUV Supply
by
Total of 14,820 vehicles comes up short of forecast for 16,000

Company reaffirms full-year outlook of at least 80,000 autos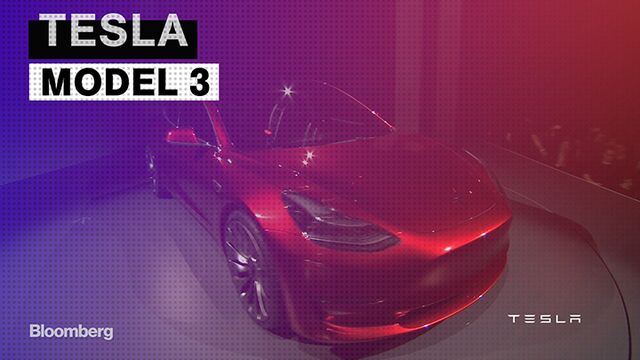 Tesla Motors Inc. shipped fewer electric cars than it forecast in the first quarter, hurt by a new line of sport utility vehicles that was both short on parts and long on technology "hubris."
The automaker said it sold 14,820 Model S cars and Model X SUVs in the first quarter, short of the 16,000 it had predicted in February. Shares fell in late trading, giving back some of the gains Tesla had made since Thursday by exceeding all expectations on orders for a new, lower-cost car that will be available next year.
Tesla blamed the delivery count on parts shortages for the SUV and "hubris in adding far too much technology to the Model X in version 1." First-quarter deliveries, up 48 percent from a year earlier, included 2,400 units of the Model X, the company said in a statement Monday, in which it reaffirmed plans to deliver 80,000 to 90,000 vehicles this year.

You have a first-quarter "miss in the middle of reservations for the Model 3 going through the roof," said Andrea James, an analyst at Dougherty & Co. who has a buy rating on the stock. "Execution matters on an execution story, but Tesla scores points for their honesty about what happened in the quarter."
After the supply shortages were resolved, the weekly production rate jumped to 750 by the end of March. Tesla said it's examining the root causes of parts shortages "to ensure that these mistakes are not repeated with the Model 3 launch."
Combined deliveries of Tesla's first three electric vehicles -- the Model S luxury car, the Model X and an original Roadster that's now discontinued -- are now roughly 122,000, less than half of the more than 276,000 orders received just since Thursday for the company's newly introduced Model 3. That electric car's $35,000 price tag adheres to Chief Executive Officer Elon Musk's strategy of introducing a more affordable, high-volume vehicle only after he had succeeded with more expensive models.
"Roadster, S and X customers are the ones who got us here and are paying for 3," Musk said in a tweet over the weekend. "They deserve a lot of credit."
Shares Retreat
Tesla shares fell 3.5 percent to $238.36 at 5:48 p.m. New York time, after regular trading. Tesla had gained 4 percent to close at $246.99 after reaching a six-month high earlier on Monday, before the deliveries were announced.
Though the Model 3 isn't expected to begin production until late 2017, the orders that have already been placed -- each requiring $1,000 to reserve -- have given Tesla a cash infusion of at least $276 million. The company raised $226 million in its June 2010 initial public offering.
The actual number of first-quarter deliveries may change a little by the time Tesla reports quarterly earnings. The company counts vehicles as delivered if it's transferred to the buyer and all paperwork is correct. Tesla releases global sales figures quarterly, instead of the monthly country-by-country results typically announced by other automakers. The maker of electric cars and energy storage devices delivered 50,658 Model S sedans and Model X sport utility vehicles in 2015, toward the low end of its revised target to ship at least 50,000.
Before it's here, it's on the Bloomberg Terminal.
LEARN MORE