business
Cash Is Still King in Switzerland
By
SNB to present new 50-franc bill in Bern on Wednesday

International scrutiny of high-value notes doesn't sway Swiss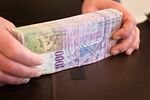 Manuel Brandenberg, a lawmaker in the Swiss canton of Zug, loves cash. So much so, that he once astounded a municipal official by paying his taxes with a wad of banknotes.
QuickTake Privacy Vs. Security
That belief in bills is shared by many of his compatriots, who have a penchant for hard currency even when electronic options are available. In a country whose wealth managers flourished thanks to banking secrecy, citizens often cherish the untraceable privacy conferred by notes and coins.
"Cash is property and cash is freedom," said Brandenberg, 44, an attorney and member of the nationalist Swiss People's Party. "It empowers the individual, because it's tangible wealth."
His sentiment illustrates the emotions at play as Switzerland unveils the first redesign of its banknotes in a generation. More than a decade in the making, the bills have enhanced security features and a new design, but the changes stop there. Unlike their neighbors, the Swiss have no plans to reconsider banknote denominations -- 10, 20, 50, 100 and 200 francs. Not even the highest of 1,000 francs ($1,040).
Predilection for Notes
To prevent his country from going down the same path as the euro region, where officials are toying with the idea of pulling the 500-euro ($567) note to combat crime, Brandenberg has proposed enshrining existing denominations in national law. Issuance is currently a matter for the Swiss National Bank, which will present its new 50-franc bill in Bern on Wednesday.
"We want to guarantee that cash remains in force," says Brandenberg. "If it's anchored in the law, it's harder to change."
Austria's deputy economy minister called in February for a similar measure to preserve the 500-euro note, evidence of how the argument for privacy resonates throughout German-speaking Europe. That contrasts with other countries such as Sweden, where cash is dying out.
The predilection for notes and coins is evident on the streets of Zurich, where a number of stores don't take plastic -- among them Belcafe at Bellevue, a busy transport hub in the center.
"I always pay for everything in cash, because it allows me to keep better tabs on my finances," said Flamur Halili, a 22-year-old mechanic, standing in line for a roast-beef sandwich off Zurich's Bahnhofstrasse. "With cash you can't run up any debts."

National data confirm that preference. In Switzerland the value of card transactions relative to economic output was roughly a third that of the U.K. or Canada, according to select Bank for International Settlements data for 2014 -- even though payment terminals were about equally prevalent. Roughly 20 percent of purchases -- including large sums for jewelry -- were paid in cash, then-Finance Minister Eveline Widmer-Schlumpf told parliament in 2014.
She spoke during a debate on an anti-money laundering law that came into force this year, establishing a ceiling of 100,000 francs on anonymous cash transactions. Charles Goodhart, a former Bank of England policy maker, said in December that the limit was so high that it could only be described as a joke.
Yet the Swiss demand for privacy is no laughing matter. The federal government appoints its own public data security officer, and banking secrecy remains in force for domestic customers even though it has all but been abolished for non-residents. A new train travel card -- similar to London's Oyster card or New York's MetroCard -- provoked concerns authorities might snoop on citizens' travel habits.
Privacy Concerns
Such nervousness holds true even for some of the Facebook generation.
While Natalie Rickli, 39, a member of the SVP and one of the country's parliamentarians most active on social media, admits to paying bills online for convenience, when asked whether the SNB should review its denominations to hinder criminals from carrying large amounts of cash, she is unconvinced.
"There's no reason to change things," said Rickli. "I don't want the state to know who goes to what restaurant. That's none of the government's business."
Not everyone agrees. Cedric Wermuth, a 30-year-old Social Democrat member of the federal legislature's lower house, says 1,000 francs is an "absurdly high number" for a banknote.
"Never in my life have I even paid 500 francs in cash," he says. "The demand to clamp down on dubious cash transactions is totally legitimate."
Tax Bill
As for Brandenberg, while a tongue-in-cheek push he launched earlier this year for a new 5,000-franc banknote has floundered, his measure to get the denominations written into law met with initial success at a cantonal level.
Yet even his fondness for cash has its limits: This year he settled his tax bill electronically.
— With assistance by Mara Bernath
Before it's here, it's on the Bloomberg Terminal.
LEARN MORE