Pakistan's Sharif on Panama Leaks: Nothing New, Nothing Illegal
by
Children own six upmarket properties in London: Indian Express

Sharif's family says information distorted, no wrongdoing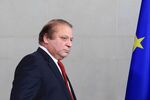 Pakistani Prime Minister Nawaz Sharif's family on Monday dismissed the importance of leaked files from a Panama law firm showing his children used offshore companies to make investments, saying they contained nothing new and made no allegations of wrongdoing.
Three of Sharif's children are either owners or have signing rights to authorize transactions of four offshore companies in the British Virgin Islands, according to a report by the International Consortium of Investigative Journalists, known as ICIJ. They owned at least six upmarket properties overlooking London's Hyde Park, Indian Express said, citing the collection of leaked documents from Panama-based law firm Mossack Fonseca.
"No new information has been disclosed by the Panama leaks and ICIJ which was not already in public domain," said the statement attributed to a Sharif family spokesman. "It is regretful that some elements in media and political rivals are disseminating factually wrong information and distorting it for political purposes."
The ICIJ report says that shell companies can be and are used for legal purposes, and there's no implication that anyone has broken the law or acted improperly. Mossack Fonseca said it "does not foster or promote illegal acts" and allegations that it helps hide the identities of real owners are "completely unsupported and false." Panama's government said it will cooperate with any legal probe resulting from the data leak, Agence France-Presse reported.
'Financially Sound'
Hussain Nawaz Sharif, the prime minister's son, didn't answer multiple calls to his mobile phone. Musadiq Malik, a spokesman for Sharif, and information minister Pervez Rashid didn't answer repeated phone calls and text messages seeking comment on the reports. Muhammad Safdar -- the husband of Mariam Safdar, Sharif's daughter who is named in the report -- didn't answer a call to his mobile phone.
All of the corporations owned by the Sharif family are "legal and financially sound," according to the statement, which was sent to reporters via Whatsapp by spokesman Khawaja Maaz. None of the companies mentioned are owned or run by the prime minister, it said.
Family Business
Sharif's family has business interests ranging from sugar manufacturing to dairy production to steel making, giving his enemies fodder for attacks in a nation prone to army takeovers. The military accused Sharif of money laundering when he was ousted in a 1999 coup. He was eventually acquitted after spending about seven years in exile.
The latest revelations are unlikely to increase tensions between the military and Sharif because "nobody is with a clean hand," said A.Z. Hilali, chairman of the department of political science at the University of Peshawar.
"This is not a new thing as far as Pakistan's politics or political elites are concerned," Hilali said. "Our politicians take politics as a sport and run it like a business."
Hussain Nawaz Sharif and Hassan Sharif, both sons of the prime minister, have lived abroad for two decades and neither is a taxpayer in Pakistan, the statement said. Hussain is a resident of Saudi Arabia, while Hassan lives in the U.K., it said.
London Properties
"They have been diligently filing their company reports and tax returns in their legal and tax jurisdictions," it said.
The ICIJ report says Mariam Safdar owned two firms based in the British Virgin Islands. The Sharif family disputed that, saying she's a trustee of one company owned by Hussain Nawaz, which would allow her to distribute the assets to his family if required. She also doesn't receive income or financial benefits from the companies owned by her brothers, the statement said.
ICIJ said documents it reviewed say that Mariam and Hussain Nawaz received as much as $13.8 million in lending from Deutsche Bank Geneva with the London properties serving as as collateral.
"We fully recognize the importance of this issue," Deutsche Bank said in an e-mailed statement, adding that it can't comment on individual situations. "We have enhanced our procedures for bringing clients on board and verifying with whom we are doing business, and our policies, procedures and systems are designed to ensure that we comply with all applicable rules and regulations."
The Sharif family statement said that Hussain Nawaz has "unequivocally and clearly disclosed" all of the corporations mentioned and their sources of funding in televised interviews.
"Most Pakistanis already know about such things," said Mohammed Sohail, chief executive of Topline Securities Pakistan Ltd. in Karachi. "We don't see any negative implications on the market and perception."
Before it's here, it's on the Bloomberg Terminal.
LEARN MORE