Online Lenders Enlist Silicon Alley to Avoid Next `Big Short'
By
Fintech firms say they bring transparency to `opaque' market

Investors have been spooked by reports of rising risk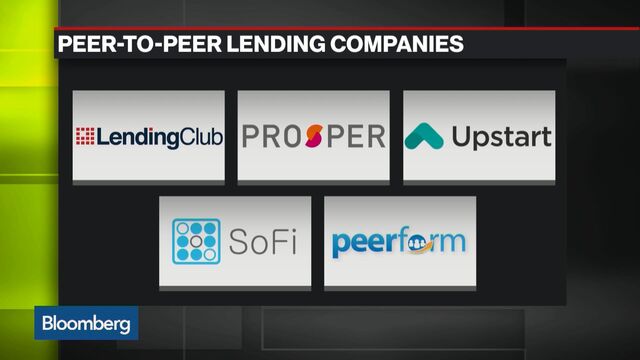 Fund manager Don Davis had been buying online loans for several years when there was a spike in calls from worried clients. In recent months, they'd seen disturbing reports about growing risk in this lightly regulated lending business.
Davis, who works for Prime Meridian Capital Management, has tried to reassure clients with the help of data from a company called MonJa. The San Francisco firm is one of several fintech startups that have emerged in the last couple of years promising to help investors evaluate the quality of the billions of dollars in loans sloshing around the Internet. Though Davis considers some investors' fears overblown, he says MonJa data saves his firm time and money.
"Investors are more concerned about risk now," he says. "When they see the headlines, they start to ask more questions."
The advent of fintech startups like MonJa mirrors the boom in so-called peer-to-peer lending. Borrowers looking for low-cost ways to raise money online are flocking to the likes of LendingClub Corp. and Prosper Marketplace Inc, which have issued a combined $22 billion of loans through last year. Morgan Stanley says the market could surge almost tenfold to $490 billion in 2020.

Peer-to-peer borrowers apply to sites like LendingClub, which then determine the would-be client's creditworthiness and assign an interest rate to the loan. Institutional and individual investors then select which loans they want to fund. Trouble is, there's no standardized way to report loan data. That can make it difficult for investors to compare loans on different platforms. Adding to the complexity is the variety of loans investors can choose to fund, from unsecured personal loans to student loans to ones taken out by small businesses.
In recent months, red flags have gone up -- spooking investors. Moody's Investors Service placed three bonds backed by peer-to-peer lender Prosper Marketplace loans on downgrade watch in February after finding the debt is being repaid more slowly than projected. In a statement, Prosper said it disagreed with the Moody's analysis. Meanwhile, some firms are bundling and selling P2P loans as asset-backed securities; the bundling of home loans contributed to the financial collapse chronicled by the Oscar-winning film "The Big Short." On Thursday, Mary Jo White, the head of the U.S. Securities and Exchange Commission, said online lenders need to disclose detailed loan data.
"Loans are extraordinarily difficult data-wise to capture if you don't have a specialized system," said Brian Weinstein, chief investment officer at Blue Elephant Capital Management. "There are already hundreds of thousands of existing loans with different underwriting methods, different data methodologies and different reporting."
Now that investors are paying closer attention to peer-to-peer lending, fintech upstarts like MonJa, PeerIQ, Orchard Platform and dv01 see their opportunity.
The firms all employ engineers and financial experts to develop software that monitors and standardizes loan data, helping customers compare loan quality and assess the risk of potential investments. For example, MonJa provides Prime Meridian with ongoing loan portfolio data and answers the firm's specific data requests, such as stress tests, or assessments of the health of a portfolio amid worsening economic or financial conditions. 
James Wu, MonJa's founder and chief executive officer, says the assets his firm analyzes have doubled since the fourth quarter of last year.
"In 2015, there was a tremendous amount of optimism and there wasn't much discernment by investors about what to invest in -- you just needed to pour the money into the asset class," Wu says. "But 2016 is a very different story -- there is a lot more caution, especially with the recent headlines."
PeerIQ, which is based in New York, reports a similar surge in business. The volume of outstanding LendingClub and Prosper loans it analyzes surged 18 percent to $11.7 billion in the fourth quarter from the previous three months, according to co-founder and CEO Ram Ahluwalia.
The fintech startups are having no trouble attracting investors of their own. Victory Park Capital, a private equity firm, is a PeerIQ customer and also contributed to the startup's $2.5 million funding round in September. Meanwhile, dv01 secured a $5 million investment from Soros Fund Management and Jefferies Group LLC, according to a person with knowledge of the matter. Spokesmen for Soros and Jefferies declined to comment.
The biggest potential challenge to these upstart Fitches? That big institutional investors will take risk analysis in-house as peer-to-peer lending mushrooms.
"The Fidelities of the world and the BlackRocks of the world may decide they like the asset class enough to develop their own Orchard or PeerIQ," says David Ritter, a Bloomberg Intelligence analyst.
For now, demand for Orchard's services is rising, and its customer base widening, says David Snitkof, the New York firm's co-founder and chief analytics officer. It's not just the early adopters such as hedge funds and family offices anymore, he said. Other entities, such as closed-end funds -- companies that raise capital through an initial public offering and then trade like a stock on an exchange -- also want the data.
Perry Rahbar, dv01's founder and CEO, says his company and its peers help create transparency in a "very niche, opaque" market.
"The lack of knowledge is a big part of why a lot of what happened in 2008 happened," he says. "Look at 'The Big Short' -- no one understood how bad things were because of a lack of transparency, which ultimately makes it easy for people to ignore things."